Hubert Francis Bonfili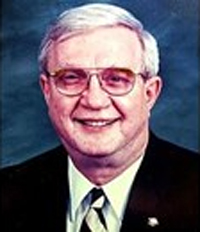 Col. Hubert Francis Bonfili, MD, MPH (ret.) age 79, passed away peacefully on Thursday, August 29, at Kate B. Reynolds Hospice Home in Winston-Salem, NC. He was born December 25, 1939, in Carnegie, PA, to Umberto "Bert" Joseph Migliarucci Bonfili and Frances "Fanny" Delores Groznik Bonfili.
Bonfili's humble upbringing in the shadow of Carnegie's steel mills played a principle role in his drive and strong work ethic. As the oldest of six children, he was a trailblazer in his own family. As a child, he enjoyed spending time with his father taking apart and building electronics and it was in those moments that he decided to pursue a degree in electrical engineering. He graduated with a Bachelor of Science from Lowell Technological Institute in 1961.
In September 1961, he was commissioned as a Second Lieutenant in the U.S. Air Force. His duty stations included Wright Patterson Air Force Base in Ohio; Holloman Air Force Base in New Mexico; Kunsan Air Force Base in Korea and Brooks Air Force Base in Texas. In between his service in Ohio and New Mexico, Bonfili was handpicked to participate in an inaugural USAF program to earn his medical degree at St. Louis University while stationed at Scott Air Force Base in Illinois. Bonfili continued his service as a Major in the USAF during the Vietnam War and played a crucial role as a flight surgeon in evacuation of POWs during Operation Homecoming. His exciting military career continued stateside when he became one of the youngest officers in USAF history to be promoted to full Colonel in 1979. He married Claudia Reagan in 1969 and became a father to Frances Nicole, Hubert Brian and Daniel Ryan.
After retiring from the USAF as Chief of Flight Medicine for the Air Force in 1981, Bonfili began a successful civilian career in occupational medicine with Arabian American Oil Co. (ARAMCO) in Dhahran, Saudi Arabia; Monsanto Company in St. Louis, MO; Shell Oil Co. in Wood River, IL and R.J. Reynolds in Winston-Salem, NC. He retired from his corporate career in 2003 and became the founder and CEO of Health Status Evaluations, LLC in Winston-Salem as an FAA designated Senior Aviation Medical Examiner until his third and final retirement in 2016.
Those who knew him admired his hardworking nature, his constant desire to learn about and explore new cultures all while being an avid collector of a wide variety of memorabilia. He found joy being surrounded by family and took great comfort in being a steady provider for those he loved. He is survived by his former wife, Claudia; his sons, Hubert "Bert" (Keri) and Daniel (Celia); brothers, Gerald "Jerry" (Virginia), Thomas "Tommy" (Kelly), Robert (Sharon), Geraldine "DeeDee" (Merle) Tournay, David; grandchildren, Lucille, Mia, Ava and Opal; many nieces, nephews, cousins and friends.
Friends and others whose lives Hubert touched are invited to a visitation and blessing at BAGNATO FUNERAL HOME, 50 Jefferson Street, Carnegie, PA, at 9:30 a.m. on Friday, September 6, 2019. Interment in the National cemetery of the Alleghenies with full military honors. In lieu of flowers, Hubert's family requests donations be made to the in honor of him.