Dr. Julius W. Taylor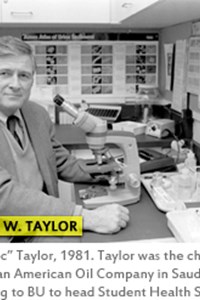 Julius W. Taylor - better known to generations of Boston University students, staff, and faculty as "Bill" or "Doc" - died on August 31, 2007 in Lincoln, Mass., at age 84. He retired from BU last year after almost three decades with Student Health Services (SHS).
A native of Louisville, Ky., Taylor was the chief surgeon and director of medical affairs for the Arabian American Oil Company (Aramco) in Dhahran, Saudi Arabia, for more than 20 years before returning to the United States and becoming the medical director at Student Health Services in 1979. His experiences in Dhahran made him an excellent clinician and administrator, says Denise Buckley, SHS director of nursing, and provided him with fascinating stories about treating Bedouin families and serving as the personal physician to the king.
"I always enjoyed working with him," says Buckley. "Besides being a good surgeon and a kind person, he was easy to talk to. He had wonderful stories about his experience as a physician, and he shared them with us and also listened to our stories."
Leslie Silverstone, retired chief of clinical services at SHS, worked with Taylor for 28 years. He says Taylor always chose the most tactful and direct way of dealing with difficult situations, concerned parents, and troubled students and invariably took time to help his staff resolve any personal problems.
"Every one of the staff, not just the doctors, absolutely respected him, and I can honestly say even loved him," says Silverstone. "If they were sick, he made sure they got the proper care. He never made things difficult for them and never penalized anybody. If he had a complaint, he would come out and settle it, and that would be the end of it. You always knew where you were with him."
A memorial service is being held today  at 11 a.m. in St. Peter's Episcopal Church, 320 Boston Post Rd., Weston, Mass. A reception follows, from noon to 2 p.m., at the Weston Golf Club, 275 Meadowbrook Rd. Instead of flowers, contributions in Taylor's memory may be made to Brigham and Women's Hospital.