Charles Ray Alexander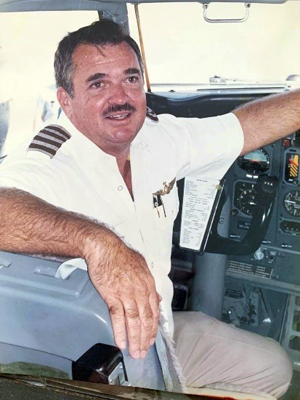 Charles (Charlie, Chuck) Ray Alexander took his final flight from this world on March 13th, 2021 in his home, surrounded by people that loved him. After a long struggle, with a body that wanted to quit well before he was ready, he can now join his wife, Mary Alexander, his brothers, parents and countless friends on a new adventure.
Charlie was born August 6, 1937 in Edinburg, Texas, to parents Robert Lawrence Alexander and Patye Thornton Alexander. He had two brothers, Ralph Lawrence Alexander and Jackie Morris Alexander. After his father died when he was only 7 years old, his mom worked very hard to raise three sons. She leaned on her family quite often, Charlie and his brother Jack spent a lot of time with their aunt and uncle, Henry and Bea Kristek, especially after his mother got sick with cancer.
After graduating Edinburg High School in 1954, Chuck enlisted in the Marine Corp. After bootcamp, Chuck took an exam, passed and qualified to become a US Marine Corp pilot and trained with US Naval Cadets. Among his training sites was Beeville, Texas where he met Mary Hellen Moore, she would become his wife of 51 years. They would raise two daughters, Karen Ann Alexander and Joy Alexander Neumann. Chuck was a veteran of the Vietnam War where he flew fighter jets and was stationed and traveled all over the world. He retired as a Major in the Marine Corp after 21 years of service.
While in the Corp, Chuck also found time to get his College Degree from University of Hawaii and eventually his MBA from Pepperdine University. All of this while working full time and taking care of his family.
Trying to keep his family from moving all over the world Chuck took a job with Meryl Lynch in Houston Texas. This sedentary life didn't even last a year when he and his wife decided to accept an offer from ARAMCO and in 1977 moved their family to Dhahran, Saudi Arabia.
Chuck was a pilot for the oil company for 20 years. During that time he enjoyed traveling and he and his wife Mary became Master Scuba Instructors. They ran the Dhahran Dive Association for many years. This allowed them to pursue their hobbies of travel, diving, photography and entertaining. "Chuck and Mary were the ultimate hospitality team."
After retiring from ARAMCO, Chuck and Mary moved to the Dallas Ft. Worth area to be near family and friends. Chuck would eventually take a job with Flight Safety as an instructor. He would work there until his final retirement in 2018.
Chuck received many awards during his 50 years as a pilot, but he was most proud of the FAA's Wright Brothers Master Pilot Award that he received on August 10, 2016. This is the most prestigious award the FAA issues to pilots. Chuck logged 50 years of accident free flying.
In 2015, Charles lost his beautiful wife Mary Moore Alexander to cancer. He is survived by his children Karen Ann Alexander and Joy Alexander Neuman, his son in law, Peter Neumann and his beloved grandsons: Zachary Alexander Neumann, Preston Cole Neumann and Ryan Charles Neumann. Charles is also survived by sisters and brothers in law, nieces, and nephews.
There will be a proper military send off followed by a big celebration of his life in Colleyville, in August, just as he wanted. In lieu of flowers please donate in his memory to your favorite charity, maybe to a local Vietnam Veterans organization.