Beryl Isabel Turner Harvey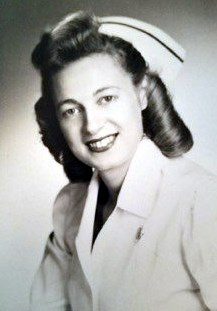 Beryl Isabel Turner Harvey, long-time resident of San Antonio, Texas, passed away peacefully on June 11, 2018, at the age of 95.
Beryl was preceded in death by her husband of 62 years, Bill Harvey. She is survived by her daughter, JoAnn Jeffrey, and her husband, Dr. Doug Jeffrey of Eugene, Oregon, and her son, Bill Harvey and his wife, Cindy Harvey, of Boerne, Texas. She is also survived by three accomplished grand-daughters of whom she was enormously proud: Dr. Emily Jeffrey and her partner, Dr. Carlos Enamorado, Capt. Claire Jeffrey, and Dr. Jenna Jeffrey and her husband, Dr. David Limmer, as well as numerous nieces, nephews, great nieces, great nephews and her life-long and cherished friend, Beverly Hunt.
Beryl was born in Glace Bay, Cape Breton, Nova Scotia, Canada as the youngest of 11 children on May 23, 1923. She joined the Women's Cadet Nurse Corps in 1944 and graduated as a Registered Nurse in Mt. Vernon, New York in 1948. After working at Doctors Hospital in Manhattan, Beryl took the bold and adventurous step of moving to Saudi Arabia in 1951 to work at the hospital for the Arabian American Oil Company. It was there that she met Bill, married and had her children. She moved to San Antonio with her family in 1957.
Beryl began working at the Downtown Baptist Hospital in San Antonio in 1961, and was the Operating Room Supervisor opening the Northeast Baptist Hospital in 1970. She retired from Baptist Hospital in 1985, and continued to work at Northeast Anesthesiology for several years after her retirement.
Beryl was spunky, had boundless energy and would happily join in a spontaneous dance party with her family. She was a skilled crochet artist, crafting a rainbow flurry of blankets for friends and family. She had a powerful sweet tooth and generously shared her homemade ginger and chocolate chip cookies, along with her giant box of Whitman's Sampler. Beryl was kind and always thought of others first, before herself. Her garden was bountiful and she shipped fruit from her lush orange and grapefruit trees to her grandchildren across the country. She was an avid reader and loyal Spurs fan. Most of all, she loved music and couldn't imagine a day without it.
Beryl and her family attended Community Bible Church in San Antonio. She was a life-long believer in Jesus Christ and the family is blessed by the assurance she is well and in the presence of God. A missing part will remain in the hearts of those she leaves behind, but they rejoice in the promise they will see her again.
A visitation will be held at Sunset Funeral Home, San Antonio, Texas 78218 from 5:00 to 7:30 p.m. on Sunday, June 24. A funeral service will be held at the same location on Monday, June 25, at 12:30 p.m., followed by interment at Ft. Sam Houston National Cemetery at 2 p.m. Chaplain Michelle Vetters, M.Div, will officiate.