Benjamin Richard Persons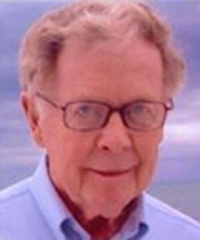 After a lengthy battle with Alzheimer's and Parkinson's, Benjamin Richard (Ben) Persons, 91, of Rochester, passed away on September 3, 2018, surrounded by his family and loved ones.
Ben was born in St. Paul, Minnesota, on January 6, 1927, to Benjamin and Catherine (Colbert) Persons, the third of four children. He grew up in the Como Park neighborhood, near the State Fairgrounds where he attended St. Andrew's Grade School, and Cretin High School. In January 1945, he enlisted in the U.S. Navy. After passing the Eddy Test, he was trained as an electronic technician working on radar systems. He was based in Gulfport, Mississippi and Navy Pier in Chicago. He was honorably discharged from the Navy in July 1946 after contracting spinal meningitis, which nearly took his life.
Ben attended the University of Minnesota, graduating in 1950 with a Bachelor of Science degree in Electrical Engineering. After college, he accepted a job with IBM, where he worked for the next 44 years. His first two years with IBM were in St. Paul. After that he spent two years working for IBM at the Aramco (Arabian American Oil Co.) installation in Dhahran, Saudi Arabia.
Upon returning from Saudi Arabia in 1954, he married Luella (Lou) Wagner of Fairfax, Minnesota, a registered nurse and graduate of St. Catherine's College in St. Paul. In 1955, Ben and Lou moved to the East Coast, where they lived for the next 15 years. During this time their five children were born and Lou stayed at home to focus on the family and home while Ben worked at IBM. Every few years they moved to accommodate Ben's job. The first year he worked at the MIT Lincoln Lab in Boston. The next four years were spent at the IBM Kingston, NY lab followed by one year at the Royal Canadian Air Force headquarters in Ottawa, Canada. After that he worked for five years at the IBM facility in Bethesda, MD, and the United States Air Force headquarters command post in the Pentagon. In 1965 Ben and Lou moved to Briarcliff Manor in Westchester, NY, where he worked at the IBM Mohansic Advanced Systems Lab. In 1969, they returned to their Minnesota roots, locating in Rochester, MN, where he worked as a manager of various IBM programming groups until his retirement in 1994.
Ben liked to stay busy fixing things and working on home projects. He loved listening to music, playing bridge, and family gatherings of any sort. However, his favorite activity was fishing at a small family cabin on Lake Mary in Alexandria, MN, where he spent time every year - even the years when the family lived on the East Coast. He also enjoyed returning to his Como Park roots and attended the Minnesota State Fair most summers. Ben was a hard worker, always had a welcoming smile, and a good sense of humor. He will be missed.
Ben is survived by his five children: Ken (Rosemary) of Rochester, Ann (Bob) Abolt of Escanaba, MI, and Theresa Ross, Barbara (Clifford) Jack and Sharon (Tom) Kellogg, all of Rochester. Ben is also survived by eight grandchildren: Madeline Jack, Alex Jack, Frank Kellogg, Grace Kellogg, John Persons, Sarah Persons, Ben Persons and Tim Persons, as well as his dear sister, Mary Behr, of White Bear Lake, and his special friend, Claudia Bendel, of Rochester. Ben was preceded in death by his wife, Lou; brothers, John Paul and Kenneth George, the latter of whom was a U.S. Navy fighter pilot who died during World War II; and an infant granddaughter, Erin Jack.
A Mass of Christian Burial will be celebrated in memory of Ben at Co-Cathedral of St. John the Evangelist Catholic Church in Rochester, MN, on Saturday, September 8, at 10:00 a.m. with Rev. Msgr. Gerald Mahon officiating. There will be a visitation preceding the funeral at 9:00 a.m. Burial will be at Oakwood Cemetery. Memorials are suggested to Co-Cathedral of St. John the Evangelist Catholic Church (11 4th Ave. SW, Rochester, MN 55902), or the Mayo Clinic Alzheimer's Research Center (4111 W. Frontage Rd. - Hwy. 52 NW, Rochester, MN 55901).