Anne Moore Johansson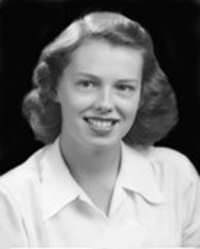 Anne Moore Johansson passed away peacefully Sunday morning March 1, 2020 on Bainbridge Island, Washington at the age of 88. Born June 15, 1931 in San Francisco, CA., she was the daughter of Lloyd and Patricia (Hooper) Moore. Anne attended elementary school in San Francisco and went to middle school and high school overseas because of her father's employment with Aramco of the Standard Oil Company. The family lived in Saudi Arabia, Bahrain and India.
Anne graduated from Kodaikanal high school located in the mountains of India in the southern Indian state of Tamil Nadu. India remained one of her favorite places in the world throughout her life. She later met the love of her life Jim (Karl James) Johansson in Missoula Montana where they attended the University of Montana. They were married in 1949 on Bainbridge where Jim had lived since an infant. They moved back to Montana where their sons Jim and Dave were born. In 1952 they moved to Bainbridge where their three other children Steven, Christine and Michael were born. In addition to raising five children Anne was a Girl Scout leader, active in PEO and the PTA. Anne was also a longtime member of the Rolling Bay Presbyterian church on Bainbridge singing in the church choir and teaching Sunday school. During this time Anne and Jim also hosted some foster children. In the mid 1960's, with her children still in school on Bainbridge, Anne went back to college at Seattle University where she obtained her undergraduate degree graduating with honors. Shortly thereafter she became a teacher in the Bainbridge Island school district where she taught for more than thirty years positively impacting the lives of so many.
Anne traveled with husband Jim throughout the world and also took solo trips overseas with each of her eleven grandchildren when they turned the age of twelve. She was an avid reader throughout her life and she and Jim also attended academic classes at Oxford University in England. One of Anne's passions was cooking and she became a fabulous gourmet cook. She also found time to obtain her private pilot's license and flew family and friends around the Pacific Northwest. Anne also was on the board of Helpline House. In addition to the lifetime friendships forged as a longtime resident on Bainbridge, Anne also made long lasting friendships from her and Jim's annual winter gatherings in Palm Springs, CA with fellow vacationers from throughout the US, Canada and England.
She loved family and friends most of all and demanded a family vacation trip every summer while her children were growing up.
Anne was preceded in death by her beloved husband of 63 years Jim in 2012 and her sister Patricia Moore Burlee in 2019. Anne is survived by her five children Jim (Joanne), Dave (Kim), Steve, Christine (Jim) Edlund and Michael (Diane). Also surviving are her nieces Jan Coleman O'Daniels (Bob), Pamela Burlee and Lynne Burlee and eleven grandchildren and nine great grandchildren. Anne, a remarkable woman, wonderful mother, aunt, grandmother, great grandmother, friend and teacher who touched all she came in contact with in a positive way, will be greatly missed.
A celebration of her life will be held at a later date on Bainbridge Island.