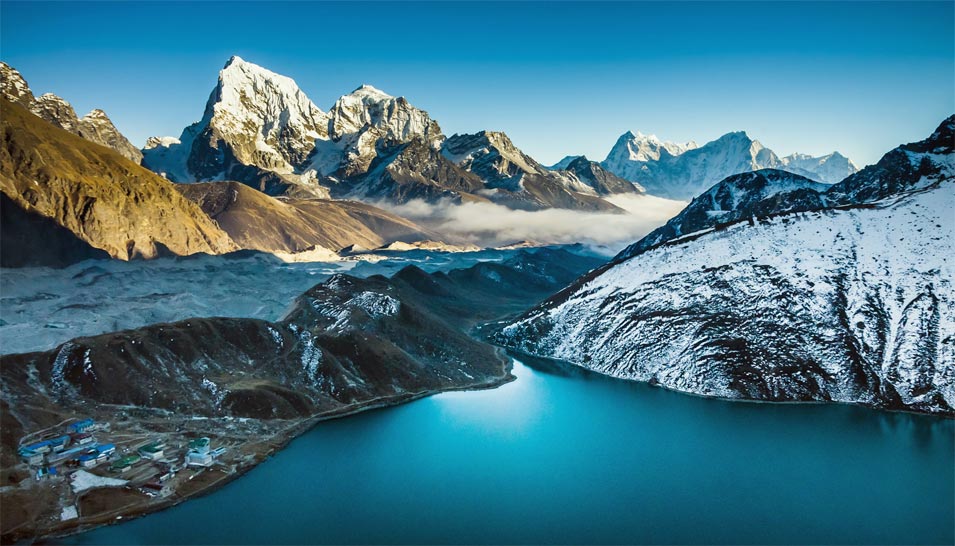 May 8 – 20, 2022
14 "L" Days
If you are looking for an adventure that seemingly won't let you down, then our Gokyo Lakes Trek is a perfect trip to do in the popular Everest region of Nepal. To begin with why that's the case, then let me first tell you that Gokyo Lakes is a set of 5 Himalayan lakes that are located at a high elevation of 4,790 meters (15,720ft) above sea level.
It is one of the most naturally preserved sites in Nepal, where the ecological and environmental features have remained intact. Hence, Gokyo Lakes is a perfect place to visit for nature lovers.
Walking along the riverbanks, trekkers will cross the Dudh Koshi river and follow the classic trek route of Everest Base Camp Trek till the iconic Sherpa town of Namche Bazaar. We stay at Namche Bazaar for acclimatization and then begin ascending higher towards Gokyo valley via Dole and Machhermo.
We now slowly approach the turquoise glacial Gokyo Lakes that are in the engrossing Gokyo valley. The whole atmosphere will start feeling more bizarre as you head higher into the valley and lake environment.
Furthermore, these serene lakes are bound to enchant you as you get to witness the incredible natural beauty of the Himalayas with your own eyes.
Cost approx $ 2,250 per adult sharing. Contact Tammy Koenning Tel. in Dhahran 050 – 414 – 9996; 878 – 9800 ; tammykoenning@yahoo.com or Lou Spencer at Louis.spencer@yahoo.com.
This trip is not sponsored by Aramco ExPats or any Saudi Aramco organization.