Wayne E. Hotz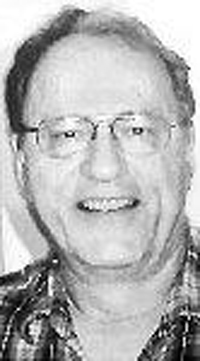 Wayne E. Hotz, D.D.S., 77, Washington, passed away Wednesday, May 12, 2021, at New Haven Care Center Nursing Home, where he'd just been moved after complications from cancer. Wayne endured painful periods during his long illness but showed courage and acceptance, even at the end when he lost his eyesight.
Wayne's health made hobbies and activities he'd previously enjoyed difficult, like gardening. Rather than succumbing to bitterness about his limitations, he purchased supplies to grow seedlings hydroponically in his basement. When seeing became impossible, he told his wife Bonnie he might be able to teach himself to knit.
This trait of continuing to learn and challenging himself was present throughout Wayne's life. At one point he became interested in electronics and would dismantle television sets and put them back together again. Wayne also enjoyed golf, especially with his best friend George, and making furniture and refurbishing antique pieces for his family. Wayne also grew passionate about growing tea roses. In later years, he developed into a gourmet cook - his bread and pies drew rave reviews from his family, as well as his soups and pastas. One interest that remained a constant for him was reading. Wayne would tackle complicated volumes with ease.
Wayne was born Jan. 8, 1944, in Lima, Ohio, the son of the late John Hotz and wife Margie, nee Eickholt. After World War II, the family moved to Long Beach, California. When Wayne was 12, his Dad worked as a chemical engineer for Aramco in Saudi Arabia, where Wayne attended junior high school. Wayne then stayed with his grandparents in Ohio to attend St. John's High School in Delphos, Ohio. He went back to Saudi Arabia each summer through college to work in the oil fields.
From 1969 to 1971, Wayne served in the Air Force as a captain at Offutt AFB, Omaha, Nebraska.
After graduating from Xavier University in Cincinnati, Ohio, Wayne attended St. Louis University School of Dentistry. He practiced dentistry in Springfield, Missouri, before coming to Washington and setting up a practice. Patients of Dr. Hotz would describe him as a smart dentist, professional and compassionate. In 2000, Wayne sold his practice to Dr. Jim Mace.
After a short retirement, Wayne worked for the Indian Health Service, practicing dentistry in Tsaile, Arizona, on a Navaho reservation. He then worked for five years at KANA-Kodiak Area Native Association in Alaska, where he soon became the director of the clinic. He also worked for a short time at the Muckleshoot Reservation near Seattle.
On March 29, 1969, Wayne was united in marriage to Bonnie Neier at St. Francis Borgia Church, Washington. The couple made their home in Washington and was fortunate to have celebrated their 50th anniversary with family and friends, a surprise event held at their son Ben's home that delighted Wayne and Bonnie.
In addition to his varied interests, Wayne was a devoted family man who especially enjoyed going to games his four children participated in. He was firm in his commitment that each of them graduate from college. As the family expanded with the birth of grandchildren, Wayne found great joy in the little ones, who affectionately called him PaPa Wayne.
Among Wayne's survivors are his wife, Bonnie Hotz, Washington; four children, Zach Hotz and wife Renee, Dallas, Texas, Josh Hotz, St. Louis, Ben Hotz and wife Maggie, Washington, and Sarah Hotz, Longmont, Colorado; nine grandchildren, Tate and Drew Hotz, Audrey, Benny and Emilee Hotz, Rhys and Vale Vainio, and Harriet and Marjorie Hotz; in-laws, Sheri Neier, St. Louis, Lonnie Neier, Washington, Jeanne Damschroeder, New Haven, Nancy Milford and husband Michael, Arlington, Texas, Doug Neier and wife Tracy, St. Louis, and Steve Neier, Indianapolis, Indiana; other relatives and many friends.
Wayne was preceded in death by his parents; two brothers, Don and John Hotz; his mother- and father-in-law, La Verne and Clarence Neier; and brother-in-law, Larry Neier.
A celebration of life will be held from noon to 3 p.m. Sunday, May 30, at Elijah McLean's Event Venue and Inn, Washington.
In lieu of flowers, memorial donations can be made to Our Lady of Lourdes School, St. Francis Borgia Regional High School or a charity of donor's choice.
Arrangements are in care of Nieburg-Vitt Funeral Home, Washington.