Rose Leah Russell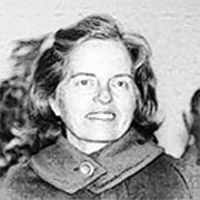 Rose Leah (Suttman) Russell, age 93, died September 12, 2018. She graduated from Miamisburg High School in 1943. The war was going badly, and the Army was desperate for nurses. Rose Leah signed up in the U.S. Army Cadet Nurse Corps. Upon graduating as an R.N., she would be assigned to an army hospital for the duration of the war.
Rose Leah was something of a free spirit, and settled in New York City, working at Mt. Sinai Hospital. She enjoyed New York City, its people, restaurants and theater. Rose felt an obligation to the Army for providing her education as a nurse, so she accepted a position in the Army Hospital at Van Nuys, California - a post that was perhaps the most difficult challenge of her life. It involved the heart-breaking task of caring for soldiers who had lost all four limbs.
For a slower pace, she later worked in a nursing home in Waterbury, Connecticut. She then signed a contract with Aramco, to work in the hospital operated by the company for American employees and their families in Dhahran, Saudi Arabia. The company had a private airport, and a fleet of DC-3 airplanes. They made regular flights to the middle east and southern Europe. Free flights were available as an employee benefit. This enabled Rose Leah to visit Rome, Paris, Milan, Luxor, Cairo, Athens, and Istanbul.
She married the man of her dreams, Bill Russell, on February 11, 1961. Bill was a mathematician working on the Hubble Telescope project at Cape Kennedy. Retirement found them living in Palm Bay, Florida, and then Round Rock, Texas to be near their children. She was a member of St. William Catholic Church of Round Rock.
Rose Leah was preceded in death by her parents, Louis and Lena Suttman; by her brother, Frosty Suttman; and by her husband, Bill Russell. She is survived by her children, Veronica Baswell, Matthew Russell, Bridget Russell, and Josephine Chasar. She is also survived by her grandchildren, Amber and Jonathan Baswell; Jackson and William Russell; Tommy, Jake, and Amber Ritthaler; and Leah, Eric, and Jackie Chasar. She will also be greatly missed by her brothers Larry (Maria) Suttman of Kettering, Lowell (Arlene) Suttman of Miamisburg and her sister Lena (Frank) Scholle of Centerville.
There will be a funeral mass at Our Lady of Good Hope Catholic Church in Miamisburg Tuesday, September 25, 2018, at 11 a.m. Burial will be beside Bill in Rockland Florida.