Rodney Dean Fleck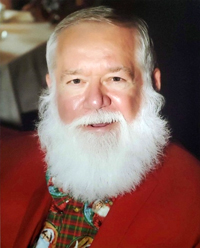 Rodney D. Fleck took his last breath at his home in Montgomery, Texas on October 24, 2021. Rodney had spent his last day with his loving wife Sandra and daughter Deana. Rodney had battled many ailments for several years. The most serious of these being congestive heart failure.
Rodney was born on September 30, 1945, to Henry Fleck and Myrtlean Harrison in Lufkin, Texas.
Rod spent his early years with his mother Myrtlean and Stepfather James. They were stationed in many places throughout his childhood due to James Harrison's military career. In his high school years alone he lived in Guam, Nebraska, and Texas, ultimately graduating from San Augustine High School in San Augustine, Texas. Rod played football in high school and went on to play in college at Blinn College. At Blinn, he majored in Industrial Engineering. Soon after he met his first wife of 42 years, Willa Beth "Scotty" who proceeds him in death. Rod and Scotty had three children Dean, Deana, and Dale. Tragedy struck the couple when they lost their first-born son Dean when he was still an infant. Rod started working at Rohm and Haas in 1971 and worked there for seven years. While working at Rohm and Haas he owned a small business, raised two children, and continued his education at University of Houston where he studied Criminal Justice and Jurisprudence. After graduation Rod took a job overseas with Aramco, where he worked his way to Personnel Director. Rod loved his time overseas and traveled extensively for the next twenty-two years. After 22 years in Saudi Arabia with Aramco, Rod retired and came back to Texas. He enjoyed retirement for about two years but then decided he had played enough golf for a lifetime. Rod decided to open his own Farmers Insurance Agency. The agency continued for the next 17 years. Rod married his current wife Sandy Fleck of thirteen years in 2008. Sandy and Rod had an email romance. The first time they met was when Sandy sat on his knee while Rod was on Santa duty. Sandy and Rod shared a love of traveling and spent many joyous moments planning and taking trips. Their very first trip they eloped to Hawaii and were married on the beach in a traditional water ceremony. Many trips were to follow.
Rod had many things he loved to do over his lifetime such as traveling, baseball, football, golf, softball, basketball, Scuba diving, art, reading and gathering of friends and family. He volunteered for the Volunteer Fire department and was Santa for 42 years. Rod was the official Santa of the 2nd Army in Desert Storm. Rod loved being Santa and volunteered his services to schools, nursing facilities, charities, and disadvantaged children. After many years, in 2014 Rod went to Santa University. Rod and Sandy were members of the Lone Star Santa's. Rodney was also a member of the Masonic Lodge.
He is survived by his Wife Sandra Fleck, Stepmother Judy Fleck, Brother Robert Harrison, Sisters Linda Allison, Shirley Channing, Rexcine Boyd, Daughter Deana Fleck-Hamblin and Son Rodney Dale Fleck.
He was proceeded in death by his Mother Mrytlean Harrison, Father Henry Fleck, Stepfather James Harrison, Wife Willa Beth (Scotty) Fleck, Brother Henry Fleck JR, Son Rodney Dean Fleck JR.
Left to Morn his passing:
Loving wife of 13 years Sandra Fleck
Son: Rodney Dale Fleck and wife Gina
Stepsons: Cary Webb and wife Brandy
Shane Braddock and wife Sarah
Scott Braddock and partner Anna Vernados
Daughter: Deana Fleck-Hamblin and Husband Troy
Stepdaughter: Amanda Braddock and husband Gordon French
Grandchildren
Jacqueline Patterson, Dean Hamblin, Lindsey Hamblin, Elizabeth Hamblin, Alexandra Hamblin, Zachary Fleck, Joshua Fleck, William French, Elliot Braddock, Mira Skye Braddock
Great-Grandchildren
Norah Patterson, Slade Patterson, Amelia Zhou, Kennedy Hamblin, Kade Hamblin
Pallbearers
Jerry Fleck, Oscar "Al" Allison, Terry Cox, Mike Kovalski, Don Poe, John Shoemaker
Honorary Pallbearers
Jeff Boyd, Roger Channing
Viewing, 4:00 pm-5:00 pm family visitation, 5:00pm-7:00 pm friends, Friday, October 29, 2021
Klein Funeral Home Champions, 16131 Champion Forest Dr. Klein, Texas 77379
Memorial Service, 10:00 am, Saturday 10/30/2021, Klein Funeral Home Champions, 16131 Champion Forest Dr. Klein, Texas 77379
Graveside Service 3:30 pm, Saturday 10/30/2021, Bylar, Cemetery, 3425 W. Old Lockhart Rd. West Point, TX 78963