Roberta H. Waterland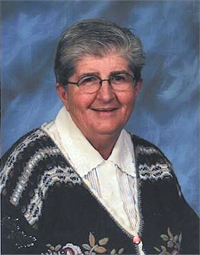 Roberta (Bobbie) H. Waterland, 89, passed away peacefully on October 7th. She was predeceased by her husband and two brothers and is survived by her seven children, sixteen grandchildren, and fifteen great grandchildren.
Born in 1930 in Hackensack, New Jersey, she earned her Associates degree in Business at Centenary College and was employed by J.P. Morgan for two years, in Manhattan. In 1952, as a single twenty-two year old woman, she accepted a job with Saudi ARAMCO and moved to Saudi Arabia. There Bobbie met the love of her life, Alfred Fitzgerald Waterland, Jr. After their marriage, Bobbie and Al lived in Saudi Arabia, then spent a year in The Hague, The Netherlands. They returned to Saudi Arabia for several years with their older two sons and daughter. Prior to the birth of their second daughter they returned to the US, briefly living in Newark, DE, before moving to Donelson, TN for nine years and having three additional sons, then returning to Delaware where she lived for forty-nine more years. While in Delaware, she was a school bus driver for nine years, was a long time cellist with the Brandywine Pops Orchestra, sang in the church choir and with the Northern Delaware Oratorio Society, and was an usher at the Grand Opera House.
Bobbie loved spending time with family, hosting large holiday dinners with extended family, music, and camping. She was a voracious reader, enjoying mystery novels, and after Al's death enjoyed her camp site at Indian Acres, and her English then French bulldogs.
Friends can call at Chandler Funeral Home, 7230 Lancaster Pike Hockessin, DE 19707 on Tuesday October 13th from 7:00 to 8:00 pm. Funeral arrangements will be private for the family.
The family requests that donations in Bobbie's memory be made to St. Barnabas Church in Wilmington, DE and the Wounded Warrior Project.