Robert Bruce Phillips Brinsmade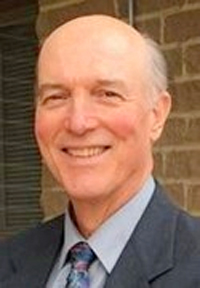 Robert Bruce Phillips Brinsmade, 70, of Orlando, Florida, died peacefully on December 24, 2019, at Advent Health Daytona Beach, just weeks after being diagnosed with acute myeloid leukemia.
Robert was born on May 22, 1949, in New York City to the late Akbar Fairchild and Juanita Phillips Brinsmade. Due to his father's varied engineering projects, Robert enjoyed a childhood living in New York; Los Angeles; Caracas, Venezuela; Charlotte, North Carolina; Madison, Wisconsin; Cumberland, Maryland; Franktown, Colorado; and Slidell, Louisiana. After graduating from Slidell High School in 1967, he attended the University of New Orleans, and then Louisiana State University in Baton Rouge where he received a B.S. in Agricultural Engineering in 1972. While in college, Robert worked with the development of hybrid corn in Wisconsin. He began his professional career working to improve sugar cane production in Louisiana, Central and South America, and subsequently moved to Colorado briefly working in the sugar beet industry. Later engineering opportunities took him to Saudi Arabia where he worked with Aramco in the oil fields and also to California with Lockheed-Martin.
During the final two decades of his career, Robert was at Cape Canaveral, Florida, working with United Space Alliance and NASA on the space shuttle program. In retirement, Robert spent much of his time assisting his parents in their home in Biloxi, Mississippi, ultimately organizing and disbursing their estate.
In his youth, Robert was active in the Boy Scouts, where he learned to love the out-of-doors and acquired the skills necessary to do whatever his environment required. Careful, deliberate, and meticulous, Robert learned the lessons well, applying these qualities to both his personal and professional lives. He began swimming at that time and continued throughout his life, as his physique was ideally suited to water sport. Horses became one of his passions, an enthusiasm he was able to pursue actively while living in Colorado and Louisiana. Robert enjoyed playing the guitar, reading books and taking courses in subjects that captured his interest, including French to add to his already extensive knowledge of Spanish.
A life-long dream of Robert's had been to have a farm, and he was finally making that dream come true on property he had found near family in Scottsville, Virginia. Robert had recently been spending his spare hours planning and designing the many features he intended to include for the buildings, crops, and animals he envisioned on his acreage. Progress was slow, merely because he hated to have anybody else do tasks he knew he could handle himself.
While working in Florida, Robert became active in ballroom dancing, in which he both excelled and made many dear friends including the love of his life, Nakita Martucier. Ballroom dancing led to considerable travel, as the dance groups participated in both exhibitions and competitions. Robert and Nakita began as dance partners and later became "partners in life" and fiancés. The couple had many plans for the coming years, including extended travel, abundant entertaining, and enjoying their pet parrots and cats. Robert's loss will be keenly felt, not only by Nakita, but also by all his Florida friends.
Family was extremely important for Robert: he could be found at nearly every major gathering of his extended family around the country. Driving was his favorite travel mode, which enabled him to develop his own schedule, get a closer view of all the sights worth seeing, and visit any family members that happened to be along his route. A soft-spoken, gentle, kind, and loyal gentleman, Robert upheld strong values, displayed a quirky sense of humor, and treasured opportunities to be among his family and friends. A beloved son, fiancé, brother, uncle, cousin, and friend, Robert will be deeply missed by his fiancée Nakita Martucier; sisters Anne Hudson Brinsmade and Charlotte Lynn Brinsmade Odom; nieces and nephews Carey and Jimmy Taylor, Brian and Holly Lignelli, Tony and Amber Lignelli, Nicholas and Sierra DeFelice, Joanna and Matthew Pennington, Taylor and Christina Odom, Kayla Odom, and Travis Odom; grandnieces, grandnephews, and great grandnieces Alaena and Philip, Jacob, Zachary, Dockery, Brooklyn, Luca, Amelia, Rocco, Margaret, Mia, Mitchell, Theo, Maxwell, Charlie, and Raegan; many cousins and dear friends.
Robert was especially grateful for all the help developing Hill Meadow Farm that he received from Frank Dunivan, Brian Lawhorne, and cousins Alicia and Tom Woodward. The family also expresses extreme gratitude to the staff in the Intensive Care Unit of Advent Health Daytona for the fastidious care given to Robert during his six weeks' hospitalization.
A memorial service was conducted at Lohman's Funeral Home, Bellevue Avenue, Daytona Beach, Florida, on Saturday, January 4, at 1:00 pm, with visitation at noon. A funeral service will be celebrated at Thacker Brothers Funeral Home, 650 Valley Street, Scottsville, Virginia, on Saturday, January 11, at 1:00 pm, with visitation at noon, followed by interment as Robert requested, on his Hill Meadow Farm in Scottsville. In lieu of flowers, memorial donations may be made to in Robert's name: . Arrangements are being made by Lohman Funeral Home in Daytona Beach, Florida, and by Thacker Brothers Funeral Home in Scottsville, Virginia.