Ray Huebner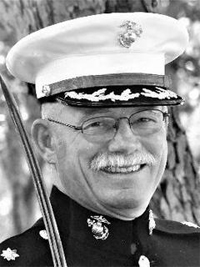 DALLAS, Texas - Lt. Col Ray Huebner, USMC, passed away in Denton, TX at the age of 80 on September 19, 2019.
He attended Kansas State University earning a degree in electrical engineering and later received a Master's Degree from the Naval Postgraduate School.
Ray married Glenda (Glee) Reed in 1962 and they had two children, Kristi and Jeffrey.
Ray served 2 tours in Vietnam and tours in California, Virginia, Washington DC, Maryland, New Jersey, Okinawa and Japan. His personal decorations included the Bronze Star. In 1979 he was the Marine Corps nominee to the Space Shuttle program. He retired at the rank of Lieutenant Colonel in 1982 and then worked as a communications engineer in Texas, Germany, and Saudi Arabia. He enjoyed volunteering and spending time with his children and four grandchildren.
---
Hugh Smith writes - Ray was an Aramcon and a member and officer of the Sierra Alpha Detachment of the Marine Corps League in Dhahran. Ray and his wife, Glee, played a very big role in organizing the support to our American troops during the Gulf War in 1990-1991. Our thoughts and prayers for Glee and the family. May he rest in peace.