Phoebe Erb Spaid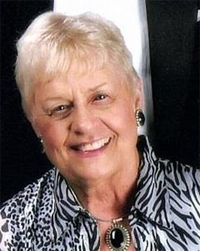 Phoebe "Penny" Erb Spaid was born on April 20, 1936 and died on April 26, 2021.
She was the daughter of Horace Graybill Erb and Dorothy Lentz Erb of Harrisburg, PA. She was educated in the Susquehanna Township school system and earned a BS in Education at Penn State where she joined Kappa Alpha Theta sorority. Penny met George William Spaid at a football game in October, 1957 and married him on July 2, 1960. George had degrees in Petroleum Engineering and planned a career in oil and gas production.
They lived a few years each in Pittsburgh, PA and Columbus, OH. A daughter, Susan, was born in Pittsburgh. Penny and Sue went through customs in Dhahran, Saudi Arabia in November, 1964. A second daughter, Sandra, was born shortly thereafter. Penny raised her young family in Arabian oil camps where she enjoyed tennis and family beach camping. Her family enjoyed travel in Europe, the Middle East and the Far East. A third daughter, Stacey, was born in 1969. Penny moved with her family to New Jersey in 1973 and to Houston in 1977. Her children earned first degrees at UT, Austin and Penn State. Penny and George moved back to Arabia in 1991 with an empty nest and the couple retired on Lake Conroe in 1996 where they enjoyed golf, tennis and sailing. Penny and George became members of First Methodist Church, Conroe where they enjoyed the BASIC Sunday school class. Penny volunteered with Montgomery County Assistance League, church visitation and Montgomery County Performing Arts.
Penny made and enjoyed many friends wherever she lived and enjoyed excellent relations with her many relatives, including George's siblings, Ronald and Kathryn Conard of Harrisburg, PA.
Penny is survived by her husband, children, grandchildren and a great grandchild:
George Spaid of Conroe, TX, Dr. Susan Spaid and Mr. Jean Francois Paquay of Maransart, Belgium; Col. and Mrs. E. Christian Shomber of Exton, PA; Mr. and Mrs. Brian Yanosy of New City, NY; Mr. and Mrs. Cooper Warner of Chicago, IL. Unmarried grandchildren are Caroline Shomber and Georgia Shomber of NYC, NY; Maxwell Shomber of Pittsburgh, PA; Henry Shomber of Exton, PA; Haley Yanosy and Joshua Yanosy of New City, NY; and great grandchild, George Warner of Chicago, IL.
A celebration of life will be held in Penny's honor at First Methodist Church of Conroe on Monday, May 10 at 11:00 AM. An unannounced family graveside ceremony will be held in Elizabethville, PA.
In lieu of flowers, the family requests donations in Penny's honor be made to the Montgomery County Food Bank.