Muhammad Akram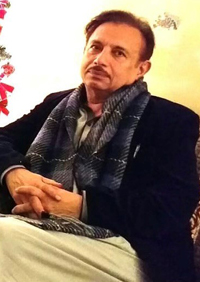 Muhammad Akram, 69, of Rawalpindi, Pakistan, passed away on May 21st, 2021 after battling COVID complications for 2 weeks.
Akram was born on February 20, 1952 in Sialkot, Pakistan. He was son of Muhammad Aslam and Ameena Begum. His father died when he was around 6 years old and his mother raised him and his sister.
He was raised in Sialkot and went to D.C High School in Kotli Loharan and completed his studies at Jinnah Islamia College in Sialkot. After graduation, he took a job in Lahore, Pakistan. There he learned computer analytics and technology. He applied and started working for Aramco in 1978. He worked as a Systems Analyst in the Computer Operations Department, Tower Building, Dhahran from 1978 until his retirement in 2013.
Akram got married in 1981 to Yasmeen Ahmed and had 3 daughters: Aroona, Heera and Noora Akram. After his retirement, he moved back to Pakistan with his wife and lived in Bahria Town, Rawalpindi. He was a quiet, soft spoken person and was loved and respected by his colleagues and friends. He loved gardening and enjoyed watching cricket. He is dearly missed by everyone. May Allah bless him with highest ranks in Jannah. Ameen.
He is preceded in death by his daughter, Heera Akram, who passed away in 2019. He is survived by his wife of 40 years and his daughters: Aroona and Noora Akram, who are settled in the USA. He has 6 grandchildren. He is also survived by his sister who lives in Pakistan.