Mary Pappas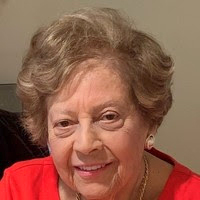 Mary Pappas, 87, of Timonium, passed away peacefully, Saturday, December 28, 2019. She was the beloved wife of the late George Pappas. They had been happily married for 65 years. Born on September 30, 1932, in Trianta, Rhodes, Greece, she was the daughter of Pericles Christodoulou and Marietta Kouniadou, both of Rhodes, Greece. Mary and her sister, Irene, and brother Savas, were raised on a small farm in the village of Trianta on the island of Rhodes. She was very devoted to the Greek Orthodox Church, and attended most every day. Mary was well-versed in the liturgy and the songs.
A couple years after completing high school, Mary met and married George, the love of her life, who was visiting Rhodes on his first vacation from his new engineering job with the Arabian American Oil Company (Aramco) in Saudi Arabia. They fell in love and were married ten days later, in 1953. Mary and George enjoyed many happy years of travel, friendships and raising their three children (John, Margaret and Irene) as overseas expats. During her three decades living in the Aramco community in Saudi Arabia, Mary became an accomplished gourmet cook and enjoyed hosting parties and get togethers both large and small for many friends. She became known throughout the community for her cooking and baking prowess, and even won several awards. Mary was also a passionate and accomplished Bridge and Duplicate player. Her husband's engineering and management career took them to the Netherlands for three years during the early 1970s. It was there that Mary developed her love and talent for gardening, which stayed with her throughout her life.
While the children were young, Mary was primarily a homemaker. Once the children went abroad for school, she began a career outside the home. She first worked as a "welcome lady," helping new Aramco employees get settled and established in their new surroundings. In 1980, she joined Aramco's personnel department. She was loved and respected by all in her unit and her Greek cookies, cakes and other culinary delights were immensely appreciated by her peers. Mary thoroughly enjoyed her job and worked there until she and George retired in 1986.
Upon retirement, they moved to Timonium, MD to be near George's mother and other family members. In 1994, Mary and George moved to Dunwoody, GA, returning to Timonium in 2014. During most of their retirement, George and Mary were active in the Greek Orthodox Church in both Atlanta and Baltimore, volunteering in many Greek festivals. They also enjoyed traveling, visiting family and friends, playing bridge, and gardening at their beautiful home in Dunwoody. Mary also enjoyed watching Atlanta Braves baseball on TBS and kept up with all of the tennis majors.
Throughout Mary's fairytale life, she showered her love and good fortune on her immediate and extended family, friends and colleagues. She found great pleasure in treating all to her gourmet cooking and delicious sweets.
Growing up during the war in an occupied area of Europe gave Mary a great appreciation for the gifts and freedoms she enjoyed and the life she ultimately led as an American citizen. One of Mary's proudest accomplishments was gaining her American citizenship, which she attained shortly after marrying George.
We will always remember Mary's boundless love for all, her vibrant personality and zest for life. Now we will enjoy her beautiful memories and legacy which will always be with us.
Mary is survived by her son John Pappas and his wife, Kristina, her two daughters, Margaret and her husband Peter Sirois, and Irene Pappas and her husband Trevor Dean, four grandchildren, Louis Pappas, Alexi Pappas (Jeremy Teicher), George Sirois and Adrienne Sirois. She is also survived by her sister Irene Siras, and her brother Savas Christodoulou, both of Australia, and their families. Mary is also survived by her niece Helen Haley and her nephew Nick Pappas.
Friends and family are invited to a viewing at the Ruck Towson Funeral Home, Inc., 1050 York Road, Towson, MD 21204, on Friday from 3 to 7 pm. A Trisagion service will be held on Friday at 4:00 PM. Mrs. Pappas will Lie-In-State at Saint Demetrios Greek Orthodox Church, 2504 Cub Hill Road, Baltimore, MD 21234, on Saturday from 10:00 AM to 10:30 AM the funeral hour. Interment in the Saint Demetrios Greek Orthodox Cemetery.