Mary Florence Hughes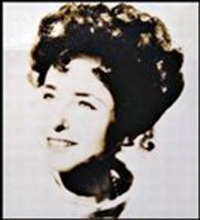 Mary Florence Hughes died January 14, 2020 at her Poulsbo home. Born 1921 to Florence and James Hughes, Mary was raised on Capitol Hill attending Holy Names Academy. Graduating from Lone Mountain College, Mary worked as a Hollywood scriptwriter for major film studios and bandleader Tommy Dorsey. Her big break came via business magnate Patrick Frawley Jr., CEO of Technicolor and founder of Paper Mate and Schick Eversharp. Through Frawley, Mary met major Hollywood stars including Bing Crosby, Bob Hope, Fred Astaire, Clark Gable, and Marilyn Monroe. Mary returned to Seattle to found Information Edge, advising Saudi Aramco on their North American PR strategy. Survived by nephews, nieces, and her brother's wife. Mary was a 3rd Order Dominican and member of St. Olaf's Church Poulsbo where she met the Bishop of Olso Norway in late 2019.
Funeral Mass, 11:00 am, March 2, 2020, Blessed Sacrament Church, Seattle, followed by Calvary Cemetery burial. Remembrances to Monastery of our Lady of the Rosary, 335 Doat Street, Buffalo, New York 14211.