Martin M. Fogel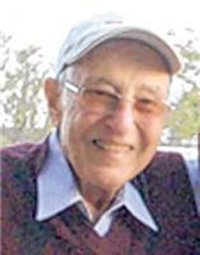 Fogel, Martin M., Ph.D. On Sunday, January 6, 2019, Martin "Marty" Fogel moved over to the other side, and his loss is deeply mourned by the wide circle of family and friends whose lives he touched. On August 8th, Marty would have completed his 98th year, and until the very end, he lived each day with gusto and gratitude.
He was born in poverty in Bronx on Bathgate Ave, his father a Polish Catholic tailor, his mother a Russian Jew. As a result of the Great Depression, the father sought a better livelihood in Los Angeles, and upon graduation from James Monroe High School, Marty set out to join his father in California because he wanted to go to college.
As long as he could remember, Marty loved sports, particularly baseball, and he pinned his hopes and ambitions on someday becoming a professional player. Affiliated with a minor league team in L.A., his frequent throwing partner was a little-known Jackie Robinson, and Marty always relished this memory.
In California, he began a pre-engineering program at UCLA and intended to finish the degree at UC Berkeley. But with the attack on Pearl Harbor, Marty joined the Army Air Corps and was sent to Yale to learn aircraft engineering. He wanted to be a fighter pilot, but failed to meet the medical requirements, so he worked as an aircraft engineer during the war. He would remain an inactive Army reservist for 40 years retiring as a lieutenant colonel.
After the war, Marty continued his studies and finished both his undergraduate and master's engineering degrees at the University of Minnesota. He married his first wife and mother of four of his children, Martin Jr., Illysa, Jacquelyn and William and worked in South Dakota as an agricultural extension agent. He moved to the University of Nevada/Reno as an agricultural agent, then to Colorado State University where he spent two years doing graduate studies. Marty then joined Aramco Oil Company in Saudi Arabia and spent four years as an engineer in the oil fields, and this international experience would prove to have a lasting influence on his professional career.
Marty came to Arizona in 1965 at the invitation of his respected mentor and collaborator, Dr. Lucien Duckstein (deceased), who had moved from Colorado State to Arizona to assume a professorship in hydrology. Marty obtained the Ph.D. in Hydrology under Lucien and joined the University of Arizona in the Department of Watershed Management in the School of Renewable Natural Resources, where he stayed until his retirement in 2003.
In Tucson, Marty met his second wife who had two sons from a previous marriage, Lan (deceased) and Fritz. They then had a baby daughter, Lauren.
Marty's life took an interesting turn when, as a UA professor, he met and mentored Dr. Abdul Barr Al-Gain, a graduate student from Saudi Arabia who would go on to become the first president of MEPA, the Kingdom's environmental protection agency. This enduring friendship built on mutual respect led to the landmark "Saudi Project," a UA partnership with King Abdul Aziz University in Jeddah that established an Arizona presence in the desert for many years. Marty helped design this project and managed it for several years residing in Jeddah. There he met his great love, Tess, who would become his soulmate and partner until the last breath. They married in the Philippines in 1993, returned to Saudi Arabia for several years and then settled back in Tucson. They adopted Axel R. Fogel, a youngster they had met in Saudi Arabia. Marty was forever grateful for the unwavering love and support that Tess provided him through good times and bad, and he deeply loved and supported all his children.
Some found Marty occasionally blunt and gruff; he seldom minced words in chastising the haughty bureaucrat. But it was all a bluff, because inside Marty was one of the most considerate, kind, caring, and generous people one could imagine. No one was beneath Marty's willingness to empathize and give of himself. Particularly when dealing with the underdog, the vulnerable, the misfortunate. He had hated the Yankees all his life because they always "won," and he preferred to bestow his loyalties on the weaker teams. Sports provided a framework for understanding the world around him-he was an avid Arizona Wildcats fan and went to as many of the home games for basketball and baseball as he could.
At the same time, Marty was a global citizen. He traveled widely for a long period of his career, and he formed a cadre of ex-students and colleagues wherever he went.
After retirement, Marty volunteered actively on the Tucson Citizen's Advisory Water Board and he lived quietly with his beloved wife and his devoted terrier companion, Prince Kody. Marty was a man of the world, but mostly he was a humble and loving human being without material ambition, without deep religious conviction, but with the strongest spiritual sense of commitment to his fellow man…whatever the gender or ethnicity…wherever he or she might be found. Martin Fogel, husband, father, grandfather, great-grandfather, soldier, professor, UA sports enthusiast, colleague, confidant, friend…you made our world a better place and we will all miss you. A Memorial Service will be held at 10:00 a.m., on Tuesday, January 22, 2019 at Evergreen Mortuary.