Keith Edwin Johnson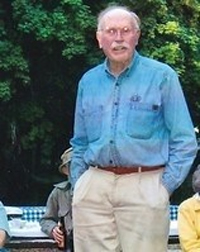 Keith Edwin Johnson left us on October 22, 2021 for his next great journey. He will be missed. He was a man with many friends all of whom he treasured. He hiked Yellowstone Park with friend Pete Peterson, shared books with friend Patrick Kelly, climbed the tallest peak in the Grand Tetons with Jim Rasmussen and hiked many a trail with his wife and kids.
Born in Ogden, Utah, the fifth child of Charles and Lucille Johnson. His father worked for Southern Pacific Railroad in Roads and Bridges division. Many of Keith's childhood memories were of trips on the railroad to places like the Lucin cutoff and the Nevada short lines.
Keith graduated from the University of Utah in Biology and took off looking for adventure. He worked at ARAMCO oil in Saudia Arabia, gold mines in Idaho and eventually returned to the University of Utah in the Department of Neurology for 40 plus years with friend and mentor Dr Leonard Jarcho.
An avid outdoorsman, Keith hiked almost every trail on the Wasatch Front. He introduced friends and family to the Zion Narrows. Later in life he and his wife traveled extensively in their VW Vanagon Westfalia from the coasts of Oregon and California to the East coast of Maine and Chincoteague Island.
In his later life, Keith kept fit by delivering the Salt Lake Tribune newspaper on foot to all his neighbors for over 40 years. He also volunteered with the Salt Lake Audubon and was chosen as Volunteer of the Year twice for his work on the reclamation of land surrounding the Jordon River.
Our hearts and gratitude to all who cared for him at the University of Utah Medical Center and Hospice. Keith is survived by wife Joan, son Eric, and daughter Amy Watson. A gathering of friends and family will be held at the Chase Mill building at Tracy Avery on November 19th , at 1:00 pm.