Joseph John Koscinski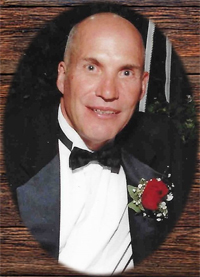 Joseph John Koscinski, better known as "P Pa Joe" was born on July 15, 1946, in Brooklyn, New York to his parents, William and Mary Koscinski. Joe entered into eternal rest on June 24, 2019, in Houston, Texas while being surrounded by his loving family.
Joe was a devoted husband, father, and grandfather who loved his family, dogs, working out, sailing, fishing and remodeling projects. He was a multiple Ironman and marathon finisher. Joe is known for his NY sense of humor.
Joe is survived by his wife, Stacy Koscinski; his son, Christopher Joseph Koscinski; daughter-in-law, Celina Koscinski; sisters, Carol Morvai and Alice Beckman; brother, Bill Koscinski; grandchildren, Caleb and Chase Koscinski; and his furry companions, Bolton and Cooper.
Joe worked for Aramco services for 32 years. He started with the company in New York in 1970 and then transferred to Houston with the company in 1974 where he became head of general ledger. He finished his studies in accounting at St. Thomas University while working at ASC. He was the 1st supervisor of the petroleum accounting group for Saudi Refining. He retired from Aramco in 2002.
Joe's only son, Chris, was born in 1970. Chris was very special to Joe throughout his life. They took many trips together including the annual Thanksgiving trips to Georgia to see Joe's mom and brother. Joe and Chris would play catch, run together, ride dirt bikes, and spar together. Joe would also take his son to baseball and soccer practice and games, Tae Kwon Do practice, and track meets – sometimes two in one night after a full day of work. Chris will always appreciate his dad for raising him to be a good son, husband, and father, as well as having a strong work ethic.
Once Joe retired, he continued his love for triathlons. Joe and Stacy were fortunate to spend their summers in Vermont from 2004 to 2009 and then Colorado from 2013 to 2018 where they could enjoy their love for biking, running, hiking and skiing.
His first grandson, Caleb was born in 2004. Once Caleb was old enough to speak, Joe became P Pa Joe! His second grandson, Chase, was born in 2010. P Pa Joe was a highly devoted grandfather picking his grandkids up from school, taking them to Tae Kwan Do, swim, basketball, baseball and drum lessons while encouraging them to work hard in their studies and all endeavors. P Pa Joe was very proud of his grandkids and loved them very much.
Joe and Stacy met at Aramco and started dating in 1989 and then married in 2001. They spent 30 wonderful years together. They met many of their good friends while participating in running and triathlon events. Joe and Stacy tried to spend as much time outdoors and were fortunate to be able to travel all over the US.
P Pa Joe will be dearly missed by all of those who shared with him in life.
Services will be held on Saturday, June 29, 2019
Visitation: 10:00 AM
Funeral Service: 11:00 AM
A reception will follow at 12:00 PM
All services will be held at Sugar Land Mortuary
1818 Eldridge Road, Sugar Land, Texas
In lieu of flowers, please donate to The Eagle Heights Church
http://eagleheightschurch.org/online-giving/
Or mail in a donation to Eagle Heights Church
P.O. BOX 156
Sugar Land, Texas 77487
In lieu of flowers, please donate to The Houston SPCA
www.houstonspca.org
Or mail in a donation to The Houston SPCA
7007 Old Katy Road
Houston, Texas 77024