John J. McCue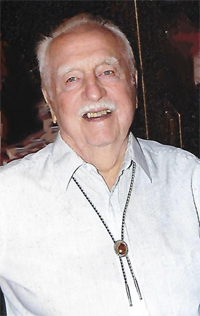 John McCue died in his sleep on May 10, 2019. John was almost 95. He was an exploratory geologist for most of his career. He worked in Wyoming, Columbia, Saudi Arabia and California.
He was also a Naval Aviator retiring as a Lt. Commander. He married a French woman, Andree, and they were married for 57 years before her passing in 2008. He leaves behind his four sons Daniel, Stephen, Eric and Gary (his wife Lisa) and six grandchildren Kaitlin, Ashley, Brittany, Brandon, Scott and Elle McCue as well as Mariana McCue and Deborah Van Wanseele.
His funeral mass will be held at the Church of the Nativity, 6309 El Apajo, Rancho Santa Fe on Wednesday, May 15, 2019 at 3pm. Interment will take place at Highland Cemetery in Casper, WY.