John F. Mowbray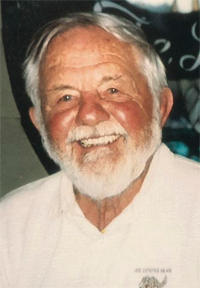 "Alas, the Owl called his name..." John F. "Jacky" Mowbray, aged 91, died on December 27, 2019, Mowbray was born in Tyrone, Pa. on December 23, 1928, and grew up in Danville. Mowbray attended George Washington and Schoolfield High Schools. Jack was a member of the GW's 1944 Va. State Champion football team. He also lettered in baseball and basketball. Following his graduation from Schoolfield H.S. in 1948, he entered Hampden-Sydney College, and later graduated from the Virginia Military Institute (VMI) with a B.S. degree in Civil Engineering in 1954. Upon graduation, he entered the U.S. Marine Corps as a Second Lieutenant and was stationed at Kaneohe Bay Air Station. While walking on Waikiki Beach in February 1956, he met Rose McWane Trible, whom he married in 1957.
Leaving the USMC after 3 years, Mowbray accepted a position with the Arabian American Oil Co. in Saudi Arabia in Sept. 1957, now known as Saudi Aramco. This led to an eventful career of 27 years, capped by eleven years as a Project Manager. During this period, he built one of the largest crude oil storage and loading facilities in the world, called the Juaymah Crude Storage and Offshore Loading Project. He also built the longest offshore natural gas trestle, called the Juaymah NGL Trestle. He retired in June 1984 and returned to Danville with his wife and resided at 282 Dogwood Drive. He was preceded in death by his parents, George Bernard Mowbray and Ruth Ferguson Mowbray, a sister, Betsy Ruth Mowbray; a brother, George B. Mowbray Jr.; and a son, Bernard Trible Mowbray who died in a desert accident in Saudi Arabia in July 1974. Jack is survived by his wife of 62 years, Rose; sister, Martha Hall; son, John Ferguson Mowbray Jr.; a daughter, Tamara Ann Berry (Randy); grandsons, John Ferguson Mowbray III, Mark Kauffman Mowbray, Bernard Asher Mowbray, Zachary Evan Berry, and Jackson Lee Berry; and two great grandsons.
Mowbray, an avid traveler, golfer and gin-rummy player was a member of the Danville Golf Club, the Water's Edge Country Club, the International Seniors Golf Association, the Senior Golfers of America and a Lifetime Member of the Nature Conservancy. His lowest golf handicap was 6 and he had 2 hole-in-ones during a lifetime spent playing golf at many of the notable courses across the U.S. and the world. Jack will be remembered for his great smile and generous nature. He was a good husband, father and grandfather, as well as a loyal friend. There will be no funeral, per his request. Friends are invited to visit his wife and family at 282 Dogwood Drive. He further suggests that memorial gifts/donations in his honor be made to the Cool Branch Fire and Rescue Squad of Penhook, Va. or The Danville Life Saving Crew.