Joanne Keller-Wolf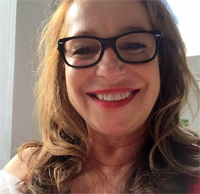 Joanne Keller-Wolf, 63, of Huntsville, Alabama, passed away Tuesday, May 4th.
She was born in Albuquerque, NM, and grew up in Huntsville, AL, where she was an active community member. She graduated from Rice University with degrees in Art & Art History and English Literature, and also attended the San Francisco Art Institute.
Joanne lived in Aramco's community of Dhahran, Saudi Arabia, for 25 years from 1982-2007, where she raised her five amazing children and traveled the world with her family. In the early days she taught Jazzercise, performed with dance company "5-6-7-8", and became both an actor and a crew member of the Dhahran Theater Group. She played the lead in 42nd Street, danced in Beauty and the Beast, and worked the sound box and backstage in a number of productions. She was the ultimate classroom mom/ team mom/ backstage mom, and could be found in the front row of most games, swim meets, and performances (usually with her youngest child of the moment in her lap), cheering and beaming with joy.
Ms. Keller-Wolf was predeceased by her parents George and Barbara Keller. Survivors include her children; Samantha (Erik); Tyler (Jenna); Kylie (Garrett); Slater (Asiye); and Marissa; as well as her four siblings and many nieces and nephews.
She was a light, who exuded love, and had a wonderfully infectious smile. She had a kind and loving spirit, and was cherished immensely by her friends and family.