Janette Stuart Mosley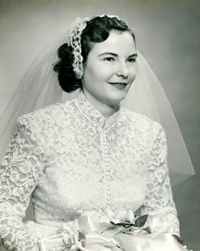 Janette Stuart Mosley, age 86, passed away Friday, February 1, 2019 in San Antonio, Texas. Born July 30, 1932 in Galveston to parents Lula and Raymond Stuart. At age 14 while attending a Girl Scout event, she survived the devastating Texas City explosion. A graduate of Texas Women's University, she hand illustrated the Corsair F4U-4 pilot manual, enjoyed building and flying model airplanes, loved painting and ceramic artwork, avid Texas Motor Speedway race fan, active Model T car club member, shared her talents with the Boy Scouts of America, and frequented renaissance festivals. Above all a loving mother and wife who seized every moment to bind her family together.
Preceded in death by husband John Mosley, Sr. Survived by 5 children; 10 grandchildren; and 4 great grandchildren.
You are invited to sign the guestbook at www.porterloring.com