James Delaney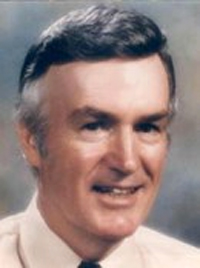 James Delaney, of Brielle passed away on November 13, 2019 at Ocean Medical Center, Brick with his family by his side. He was the son of James J. Delaney and Ester Walling Delaney.
Dr. Delaney was a graduate of Keyport High School and served during WWII and the Korean War in the United States Marine Corps. After his honorable discharge he worked for the Postal Service and as a professional baseball umpire. Realizing the benefits acquired from education he attended the University of Miami and received a Bachelor's of Business degree. He spent several years as a management consultant.
During a break in consulting assignments, he was asked to serve as a substitute teacher. His appetite was whetted when he worked as a substitute teacher between consulting assignments. He received an offer to join the Keansburg Public School System Faculty and that launched his career in education. During his tenure at Keansburg, he served as chairman of the social studies department at the high school and subsequently principal of the middle school and then the elementary school. He received a Master's degree in Education Administration from Monmouth College and began work on an advanced graduate degree. He left the Keansburg School district in 1976 to accept an administrative position with Aramco Schools in Saudi Arabia. Several years in Saudi Arabia, led to an offer of High School principal at Sinapore American School, Singapore. After Singapore he returned to Saudi Arabia and worked as Superintendent of Schools for American Corporation in Jeduah.
Returning to the United States Dr. Delany served as principal at a Parochial school in West Virginia and then in Bayonne, NJ. Subsequently, he met his wife Margery and then spent time in Thailand working with native Thais to enhance their English language skills. Upon returning to Brielle, Dr. Delaney accepted the principal's position at the School for Children with Hidden Intelligence, Lakewood, NJ, serving children with learning disabilities.
Dr. Delaney was always a sports enthusiast. He played baseball, softball, semi-pro football with the Cliffwood Angels in the Jersey Shore Football League and softball in leagues in the Keyport area. He officiated high school football, baseball and basketball. Additionally, he served as president of the New Jersey State Federation of Baseball Umpires; he was a former member of the Shore Chapter of International Association of Basketball Officials; Shore Chapter of New Jersey Football Officials Association.
Dr. Delaney was also a travel enthusiast together with his wife, Margery. They traveled worldwide and made return visits to New Zealand and other places in the Pacific Region, Europe, Scandinavian in particular, South Africa and Canada.
He was a life member of American Legion, Raritan Post # 23, Keyport, Marine Corps League, Phillip K. Dorn Detachment, where he was a charter member and Cpl. Phillip A. Reynolds Detachment, Freehold.
He was predeceased by his wife Margery (nee Keane) Delaney in October of 2019 and a son-in-law Gregory Arnold Voit. Dr. Delaney is survived by a stepson Timothy Voit of Mt Pleasant, SC and a daughter -in-law Janet Voit of Sedona, AZ.; his grandchildren Garet, Tawney, Chanel, Vernon, Walker and Nic.
Family and friends are invited to attend a visitation 9:30 am on Monday November 18, 2019 at The Parish of St. Mary 1 Phalanx Road Colts Neck, NJ 07722 with a Mass of Christian Burial to start at 10 am. Interment will follow at St. Joseph's Cemetery 360 Broadway Keyport, NJ 07735. In lieu of flowers memorial donation may be made to s Project PO Box 758517 Topeka, KS 66675.