Jack Wesley Rose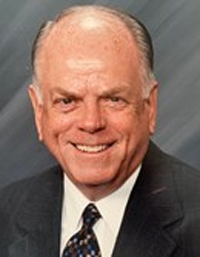 Jack Wesley Rose passed away on April 13, 2019 in Provo, Utah. He was born on February 3, 1932 in Montclair, New Jersey to Guy Burniby Rose and Leone Amott Rose. He grew up in Montclair, New Jersey and graduated from Montclair High School in 1950. Jack attended the University of Utah where he played the trumpet in the Concert and Marching Bands, was the alternate drum major, and graduated with a degree in Chemistry. He later attended California State University at Fullerton earning a Master of Business Administration Degree.
Jack met his sweetheart Gae Stott while they both attended the University of Utah. They were married in the Salt Lake Temple on June 4, 1954, and both graduated from the "U" the next day.
Jack and Gae began their married life in Portland, Oregon living there for three years before moving to Anaheim, California. Jack worked for Autonetics/Boeing Aerospace for twelve years before Jack and Gae moved the family to Houston, Texas where he was hired by Saudi Aramco. His employment afforded Jack and Gae many travel opportunities through much of Europe and the Middle East. He retired from Saudi Aramco in 1992 and they moved to St. George, Utah. In 2011 they bought a home in Provo to be near family and spent summers and BYU basketball seasons there. They loved the Cougars and for the last 22 years enjoyed cheering them on.
Jack was an active member of The Church of Jesus Christ of Latter-day Saints, serving in many stake and ward positions. He served as bishop of the Anaheim 6th ward and as bishop of the Spring Branch Ward in Houston. Jack and Gae served as missionaries in the St. George Temple Visitors Center and Historical Sites mission.
Jack's life was built around musical experiences. His vocal and trumpet music began early in his life. While in high school he played in the band and orchestra, and was the drum major of the MHS marching band. He sang in the MHS A Capella and Madrigal Choirs and the New Jersey All-State High School Chorus. While in college, Jack joined the 96th Infantry Division Band at Fort Douglas and served for nine years. Jack directed many ward and stake choirs, including an Area-wide Youth Music Festival Choir and an Area Conference Choir at the Summit Arena in Houston. In retirement he joined the Southern Utah Heritage Choir. He sang in the choir for fourteen years performing concerts throughout the United States and across the world.
Jack is survived by his loving wife, Gae, of almost 65 years, four sons and one daughter, Gordon (Sharon) of Houston, David (Cheryl) of Provo, Jacqueline Hoyt (Nathan) of Houston, Scott (Kristin) of Portland, Oregon, and Justin (Whitney) of Draper, twenty-two grandchildren, and eighteen great-grandchildren. Jack was also loved by two devoted sisters Ruth Durrans and Lucille Gaestel.
Funeral services will be held Friday, April 19 at 11:00 am at The Church of Jesus Christ of Latter-day Saints at 650 Stadium Avenue, Provo with interment in Meadow Cemetery following the service. Viewings will be held on Thursday, April 18 from 6:00-8:00 pm at Nelson Family Mortuary in Provo and on Friday, April 19 from 9:30-10:30 am preceding the funeral. In lieu of flowers, contributions are suggested to the LDS Church Humanitarian Services Fund or the Huntsman Cancer Institute. Visit www.nelsonmortuary.com for more details and condolences.