Henry Nicholas Knight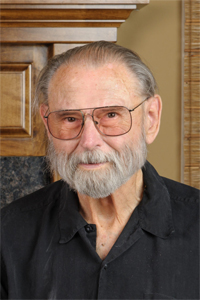 Henry Nicholas Knight, 85, a resident of Fayetteville, Arkansas, passed away on March 28, 2019, in Springdale.
Henry was born December 9, 1933, to William H. H. Knight and Rosalee Moran Knight in Perry, OK. Henry was a United States Army Veteran. Predeceased by sister, Lena Bell Beier, and brother, Raymond L. (Patty) Knight. Survived by wife of 62 years, Fern Ellen Main Knight; children Amelia Elen (Ron) Gonzales, Jocelyn Andrea Knight, Aaron Nicholas Knight; grandson Austin Andrew (Noel) Sutton; great-grandson Noah Austin Sutton.
Henry spent many years in KSA, from 1973 - 1987, retiring from his position as Supervisor, Well Material Forecast Unit, Drilling & Workover Engineering. While in Arabia, he enjoyed desert camping trips, woodshop and traveling including a trip to China with Society of Petroleum Engineers.
Henry and Ellen settled in Fayetteville, Arkansas after his early retirement. They enjoyed many annuitant reunions until recent changes in Henry's health prohibited traveling.
Friends and family are invited to drop in between 2:00 and 3:30 p.m. on Sunday, April 7, 2019, at Beard's Funeral Chapel, Fayetteville, AR. In lieu of flowers, donations in memory of Henry may be made to Perry High School Alumni Association, Inc. (Perryokalumni.org)