Harold Duane Amos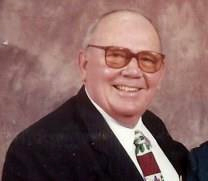 Harold Duane Amos was called to his final home on February 19, 2017.
By his Lord and Savior after serving for many years as an Elder in the Community of Christ.
He was also a volunteer at the Unforgettable Tuesday Alzheimer's Day Club along with hosting a support group for the Alzheimer's Association at the church.
Duane was born and lived in the Greggton part of Longview on August 3, 1939 and spent nearly all of his formative years in the area. He grew to adulthood at Tenneryville with his family at the W&W Drug Store. Duane was a graduate of Pine Tree School in 1957 He attended Texas A&M for one semester and returned to finish his education at Kilgore Jr. College with a certificate in Oil Well Technology in 1959.
Duane was an Eagle scout in the Boy Scouts of Americia and was also a member of the Order of the Arrow.
Duane worked in the oil field from his graduation from KJC all over Louisiana and Texas until 1966. He returned to Longview and worked at Texas Eastman until 1977. He then worked for Arabian American Oil Company (ARAMCO) in Saudi Arabia for three years.
Upon returning to Texas, he worked for Gregg County as a jailer until 1988. Duane married Patsy White from Spring Hill in 1982 and they were team drivers for J.B. Hunt Transport until their retirement in 2001.
Duane was preceded in death by his parents Barlow and Burvel Amos, his son, Duane Jr., and his granddaughter Amber Hurlbert, He is survived by two sons, Timothy Amos, of Gladewater, Texas, Robert Amos of Long Beach, California, two daughters, Shirley Ballard and her Joel of Springhill, Texas and Linda Willieford and her husband Clay of Ore City, Texas. He is also survived by four stepsons, James White and his wife Diedre of East Mountain, Texas, David White and his wife Trish of East Mountain, Texas, Jimmy White and his wife Gena of Spring Hill, Texas, and Larry White of Longview, Texas, one stepdaughter, Peggy Patterson and her husband Roger of Spring Hill, Texas. He is also survived by twenty grandchildren: Logan and Landen White, Hailey Handy and Bryson White, Lane and Zachery Patterson, Ashlyn and Brooklyn White, Taylor and Garrett White, Anthony, Matthew, Easton and Jolee Ballard, Lindsey, Cole, Carson and Cannon Willieford, Jayce and Aaron Amos, three great grandchildren, Adeligh Handy, Avery Ballard, and Paisley White., as well as numerous nieces, nephews, extended family and friends. Serving as Pallbearers are Jayce Amos, Logan White, Layne Patterson, Taylor White, Anthony Ballard, Cole Willieford, and Carson Willieford. Honorary Pallbearers will be Aaron Amos, Easton Ballard, Cannon Willieford, Bryson White, and Landon White. In lieu of the usual floral donations please make contributions to: Unforgetable Teusdays C/O Greggton United Methocist church 1101 Pinetree Road Longview, Texas 75604. Funeral services will be at 3:00 p.m., Wednesday, February 22, 2017 at Lakeview Funeral Home, with visitation from 2:00 to 3:00 p.m.