Gus Thomas Dalis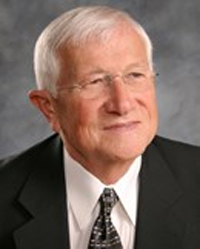 Gus Thomas Dalis Ed.D. was born in Los Angeles to Tom Dalis and Anastasia Bozionelos Dalis. His parents were immigrants from Karia, Argos, and Peloponnesus, Greece. In 1956, he married Helen (Koulos) and they were blessed with three sons, Tom, Dr. Chris and Michael, who have given them five adorable grandchildren, Konstandinos, George, Zoee, Christos and Stavros Dalis.
Service to St. Katherine Greek Orthodox Church was a top priority for Gus. He has served as President of the Parish Council, and was a member of many Church committees. He was on the St. Katherine Campus Remodel Planning Committee from its start and worked relentlessly for every Greek Festival since its inception. In 2018 he received The Archdiocesan Medal of St. Paul which is presented by The Greek Orthodox Archdiocese of America in recognition of his outstanding service and commitment to our Church in America.
Upon graduation from UCLA in 1954, he was commissioned as a 2nd Lieutenant in the Army where he served at the Nevada atomic proving grounds and at the Swedish Red Cross Hospital as Medical Liaison Officer in Korea. Gus earned his MS and doctorate from UCLA. He was a high school health and physiology teacher and health coordinator at San Gabriel High School, CA. Gus served as a health education and teaching strategies consultant, co-director of the Teaching Strategies Center, and Director of the Center for Health Education, Los Angeles County Office of Education. He provided consultation and staff development to teachers, principals and school district support staff among the 90 county school districts. Gus worked extensively in developing and improving health education curricula and instruction. He was past president of the American Association for Health Education (AAHE), and served the Association in various capacities including the development of the first edition of the National Health Education Standards and the Executive Editorial Advisory Board of the American Journal of Health Education. Gus was a recipient of the AAHE Scholar Award, and a Fellow of the American School Health Association and AAHE. He was a member of the Curriculum Development Writing Team of the landmark School Health Education Study. Gus co-authored five professional preparation textbooks in health education and teaching, and contributed over 30 educational articles to publications and journals. He served as an adjunct professor of health education for CSUN and CSULB and as an adjunct professor in teaching strategies at both UCLA and USC. He provided teacher in-service for the Department of Defense Schools in Germany, the ARAMCO American Schools in Saudi Arabia and various states in the U.S. Gus received the 2009 American Cancer Society California Division Lifetime Achievement Award.
Gus was preceded in death by his parents Tom and Anastasia and younger brother Peter. He is survived by his wife Helen, sons Tom (Eleni), Chis (Cathy), Michael (Loula), and grandchildren, Kostandinos, George, Zoee, Christos and Stavros. Trisagion services will be held on Friday, November 23, 2018 at 7:00PM, and the funeral will be on Saturday, November 24, 2018 at 10:00AM. Both services will take place at St. Katherine Greek Orthodox Church located at 722 Knob Hill Avenue in Redondo Beach, California. In lieu of flowers, donations may be made to the St. Katherine Capital Campaign.