Frank Peter Sequeira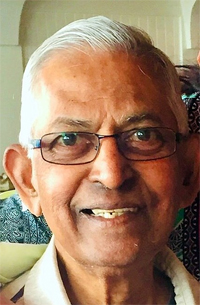 On November 28, 2020, the world changed for those of us who loved Frank Sequeira - cherished husband and father, proud grandfather, beloved father-in-law and uncle, talented doctor and teacher, loyal friend, and dedicated Rotarian. Frank passed away peacefully in White Rock, British Columbia with Blanche, his wife of 53 years, by his side.
Frank will be remembered for his sharp intellect, keen memory, oratory skills and singing voice. He was always the life of the party, regaling friends and family with storytelling, jokes and his personal renditions of songs and rhymes. He was a natural at the mic, often asked to MC social events and the first to raise a toast in celebration of good times.
Frank grew up in Mumbai, India as part of the Goan Catholic community. He studied at Grant Medical college where he earned his postgraduate MD and was appointed Fellow of the College of Physicians and Surgeons. In 1967, he married Blanche D'Souza and moved to Dhahran, Saudi Arabia where he had accepted a job as a physician with the Arabian American Oil Company (ARAMCO).
Dr. Sequeira was much appreciated by his patients and practiced for many years before being appointed to the position of Medical Director of the Aramco hospital in Ras Tanura – a notable achievement for an Indian national in those days. In between, he traveled to the UK where he earned his MRCP (Member of the Royal College of Physicians) in record time.
After nearly 25 years in the Persian Gulf, he took early retirement, emigrated to Canada with his family and settled in White Rock, BC. He taught medicine at Kwantlen University college, and he and Blanche enjoyed international travel, hiking, gourmet club, and taking daily walks at the White Rock pier and Crescent Beach. Frank joined the Rotary Club of White Rock in 2004 where he rediscovered a passion for community service and civic engagement and proudly served as chair of various committees and later as President.
For the last 8 years, he bravely and stubbornly fought metastatic kidney cancer and, later, pancreatic cancer, defying statistics and surprising his medical team. In January of this year, he happily returned home after a first stay in hospice, having beaten the odds.
The Sequeira family would like to extend their deep gratitude to Drs. Oja, Baasch, and Collins for their dedicated care and attention to Frank over the years, as well as to the amazing nursing staff and social workers at Peach Arch Hospice.
Frank leaves behind a loving family - his wife (Blanche), daughters (Debra and Tamara), sons-in-law (Simon and Vincent), and much-adored granddaughters (Jaya and Allia). In lieu of flowers, memorial donations can be made in his name to Melville Hospice Home - via the Peach Arch Hospital Foundation (www.pahfoundation.ca) or to the Rotary Association of White Rock (https://www.whiterockrotary.org).
Given the current Covid-19 context, a memorial celebrating Frank's life will be organized next year.