Frank Michael Behnke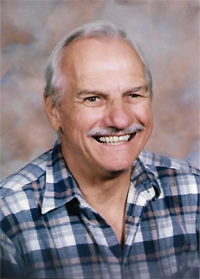 Frank Michael Behnke died at age 94 on May 14, 2021 in Boulder City, Nevada. Frank lost Dorothy, his wife of 54 years in 2004. Frank is survived by his three children, James Behnke of Marblehead, Massachusetts, Leslie Behnke Hall of Lake Bluff, Illinois and Donna Behnke-Brotherton of Peoria, Arizona. He is also survived by his grandchildren, Katie, April, Nathaniel, Katrina, Paul, Daniel, Neil, James, Joshua and seven great grandchildren.
Frank was born in 1926 in Milwaukee, Wisconsin to Cyclia and Frank Siegfried Behnke. Frank enlisted in the Navy in 1943 and served as a 'Gunners mate' during WWII in the Pacific. Using the GI Bill, Frank received his Bachelor degree (Social Studies) and Master degree (Government) from California State University, Los Angeles.
Frank spent many years as an educator with Pasadena High School and Pasadena City College. He later worked for McDonnell Douglas Corporation, Parsons Corporation and Aramco in management development and instructional design.
For his 'retirement' at age 65, Frank returned to his first love of teaching high school for nearly a decade with the Baker Unified District in Inyo County, California.
Frank was happiest at the gun range, in a duck blind, reading Shakespeare or feeding his beloved quail in the backyard of his long-time residence in Boulder City, Nevada.
Memorial donations can be made on behalf of Frank Behnke to: The USO Great Lakes Naval Station, Services previously held.