Evelyn Horan Edwards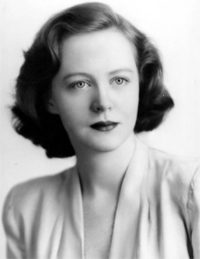 Evelyn Horan Edwards died peacefully Thursday, November 29, 2018 in Houston, Texas after a long illness. She was born on December 3, 1924 in NYC, New York, to Honora and Thomas P. Horan.
She graduated from St. Jean Baptiste High School for girls in Manhattan. After high school she attended the New School for Social Research concentrating in dramatic arts and worked at Arabian American Oil Company in the RCA Building in Manhattan. In 1946 she gave up her acting ambitions to the great relief of her mother in order to marry Lt. Commander Jarlath O'Neill Edwards of Ft. Worth (died 1995). She lived in Houston for most of the rest of her life, finding fulfillment in raising children and volunteering in the community. She was devoted to her Catholic faith and was a daily communicant for most of her life.
She leaves behind daughters Eileen Mary Edwards, Christine Ann Edwards, Jeanne Marie and husband Michael McBrien, and granddaughter Molly Ann McBrien (all residing in metro Houston), and numerous nieces and nephews. She was a member and past president of the Charity Guild of Catholic Women, and belonged to the Newman Circle, and the Equestrian Order of the Holy Sepulchre.
Friends are cordially invited to a visitation on Thursday, December 6, 2018 from 5:00 pm until 8:00 pm with the rosary being recited at 6:00 pm in The Hunters Creek Chapel at Earthman Funeral Directors, 8303 Katy Freeway, Houston, Texas 77025. Requiem Mass will be Friday, December 7, 2018 at 10:00 am at The Cathedral of Our Lady of Walsingham, 7809 Shadyvilla Lane, Houston, Texas 77055 with a reception following. A private burial will follow.