Elmer Fredrick Hartley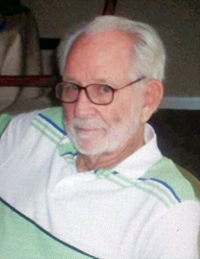 Elmer Fredrick Hartley was born on July 10, 1923 and passed away April 17, 2019. He was first and foremost a sailor. Elmer inherited his love for sailing from his father Elmer D. Hartley who had built his own sailboat, the "Aye Aye" by hand during the 1930's and who took young Elmer sailing on the Great Lakes as a boy, teaching him the particulars of his passion until Elmer left home to join the Navy during the Second World War and also served during the Korean conflict, as many patriotic young men did in those days. But, sailing was Elmer's passion to the end of his days. He owned several vessels over the years, most notably the WAKARELU, a 2 masted ketch, so christened after the first few letters of the names of his immediate family members. Elmer was the oldest of three boys. Frances and Robert came a bit later.
Elmer met the love of his life, Lucille Roedig, who was working as a waitress at a café associated with the Jasek Brothers Shipyard on Lake Macatawa where Elmer was employed for the summer. Elmer and Lucille were married on October 6, 1950 in Grand Rapids, Michigan and in November of 1952 they had their first daughter Wanda while living in Long Beach, CA. Two years later they had their second daughter Karen in December of 1954 in Lynwood, CA.
As a family man, Elmer was a great provider, foregoing a promising career in Minor League Baseball to accept a more responsible position as a Mechanical Engineer, for which he had received a degree at Michigan State University, and joined instead the Arabian American Oil Company (ARAMCO), the largest oil company in the world, and thus began the adventure of a lifetime.
Elmer worked for Aramco from 1956 until 1979 as camp manager, superintendent of Marine Services, and accepted many other supervising/ consulting positions in The Hague and Houston, and then retired from Sceco in 1980.
His employment with ARAMCO afforded Elmer and his family the opportunity to visit and explore many diverse and unique destinations that most people can only read and dream about, during a time of relative world peace and stability. Always active, his travels and assignments allowed him to pursue his various hobbies that included hiking, sightseeing, softball, tennis, and, of course, sailing.
After retiring, Elmer and Lucille continued pursuing their world travels on Yacht Cruises, Ocean Voyages, Freighter Cruises, Bus Tours, and even R.V. travels until finally settling down in a sleepy little fishing on the Texas coast called Rockport, TX. He meticulously chronicled his and Lucille's travels on the WAKARELU, the LU-EL, and beyond in a voluminous journal called ---Cocktails in Paradise, the Adventures of Lucille & Elmer Hartley 1974-1993. It is a magical read of far off places in a distant time.
Elmer and Lucille's last ten years have been residing at Brookdale Senior Living in Portland, Texas. They formed many close bonds with the residents and staff who cared for both he and Lucille.
Elmer Hartley is survived by his loving and devoted wife Lucille Roedig Hartley. His adoring daughters Wanda and Karen Hartley. His granddaughter Tonya Bailey and great granddaughters Amber and Lauren Richey. Also grieving his passing are sons in law Thomas Belichick, David R. Scott and Granddaughter Tonya, husband Brekk Bailey.
Elmer's passing will be mourned by scores if not hundreds of close friends, relatives, ARAMCONS, and many others, too numerous to name, who were touched by his charm, wit, humor, and Joie de Vivre… Sail on Good Man!!!