Ellen Maverick Dickson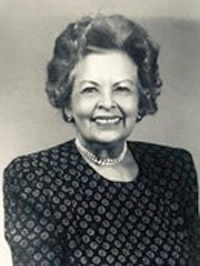 Our beloved mother and grandmother, Ellen Maverick Dickson, was born on August 20, 1930 in San Antonio, Texas and entered into eternal rest on October 21.
Ellen was raised on the Sunshine Ranch surrounded by her extended Maverick family, including 39 first cousins. She rode horses and tended chickens for her father, Jim Maverick, who owned and operated the Sunshine Dairy. Ellen often spoke fondly of her blissful childhood and her adventures with her sister Jamie, her cousin Barbara McGaughy (nee Crossette) and their friend Matilde Gutierrez (nee Veliz).
Ellen was the great-granddaughter of early San Antonio settlers Samuel Augustus Maverick and Mary Ann Adams Maverick. Samuel signed the Texas Declaration of Independence, twice served as mayor of San Antonio and gave the word "maverick" to the English language. Mary kept detailed journals which provide important insights into life in nineteenth-century San Antonio, including the only firsthand account of The Council House Fight of 1840.
In 1951, a few years after graduating from St. Mary's Hall, Ellen was presented as Princess in the Order of the Alamo Coronation.
As brainy as she was beautiful, Ellen next graduated from Trinity University. She taught history at Sam Houston and Thomas Edison High Schools. Though her teaching career was short, Ellen was a favorite of her students and received invitations to their class reunions until the time of her passing.
Ellen was introduced to her first husband, Albert Eugene Clements, by her cousin Terrellita Maverick. Ellen often described the couple's first encounter as love at first sight. Clements was born in Dunbar, Pennsylvania and served in the Marine Corps in the Pacific Theater, including the Battle of Guadalcanal. On a grand tour of Europe with her favorite aunt, Agatha Welsh, and her dear cousin, Melba Chatham (nee Welsh), Ellen reconnected with Albert, who had recently graduated from the University of Pittsburgh. After a week of courting, Ellen and Albert married at the Palazzo Vecchio in Florence, under the encouraging and watchful eyes of her Aunt Agatha and her "best man", Melba.
The newlyweds settled in Saudi Arabia where Albert worked as a geologist for ARAMCO and Ellen taught school to American students. Unique among the American women, Ellen insisted that she be allowed to visit her husband in the oil fields.
Ellen and Albert then lived in Wyoming, Montana, Oklahoma, Colorado and Corpus Christi, Texas, raising their four children. Ellen was active in community service through the Junior League of Corpus Christi and the Corpus Christi Chapter of the NSDAR.
In 1967, Al passed away suddenly. Ellen was soon courted by Frank Lacy Dickson whom she married in March of 1968. Dickson was a graduate of MIT and a veteran of the U.S. Army decorated for his service in the Battle of the Bulge. The family relocated to San Antonio where they soon welcomed Frank, Jr. "Daddy Frank" and Ellen together raised their five children, all of whom still live in Texas.
In San Antonio, Ellen rejoined her childhood church, St. Mark's Episcopal Church, and became an active member of the Battle of Flowers Association. Known to her family as "Mamacita", Ellen was a mother, grandmother and homemaker par excellence, as well as an avid student of art, literature, poetry and the stock market. Ellen travelled widely, especially throughout Europe.
Ellen loved Texas history and her heritage and enjoyed collecting books and documents about the Maverick family. This passion led to the creation of a "Maverick Room" in her home. Scholars from as far away as England visited the home to do research. By the time of Ellen's passing, the Maverick Room had expanded into two other rooms.
Ellen is predeceased by her two husbands, Albert Eugene Clements and Frank Lacy Dickson. She is also predeceased by her parents, James Slayden Maverick and Hazel Carey Davis Maverick, her two sisters, Hazel Dean Maverick Stengele and Jamie Maverick. She is survived by her children: Agatha (Charles) Wade; Dr. Carey (Chris) Rote; Merritt Clements (Karen Kelley); Jim (Suzanne) Clements; and "Baby Frank" Dickson; nine grandchildren: Ellen and Peaches Wade; Sunshine (Nick), Chris and Brooke Rote; Lewis and Augie Clements; and Sam and Jenny Clements; and one great-grandchild: Betty Bourgeois. She also leaves behind many treasured nieces and nephews.
The family would like to thank Dr. Harry Hernandez and Maria Alvarez, Ellen's caregiver of five years, for their loving care of Ellen.
A service will be held at 1:00 P.M. on Friday, October 25 at St. Mark's Episcopal Church, 315 East Pecan St. The Reverend Beth Knowlton will officiate with assistance from the Reverend Ann Fraser. A private interment will be held at San Jose Burial Park at a later date.
In lieu of flowers, memorial donations may be made to St. Mark's Episcopal Church or another charity of your choice.