Dorothy Ann Mesrop Tucker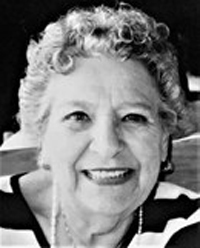 On Friday, December 7th, 2018, our mom, Dorothy (Dottie) Ann Mesrop Tucker, passed away peacefully after a brief illness. She was surrounded by family in her daughter's home.
Dottie was born and raised the youngest of three sisters in New York City during the heart of the great depression. After graduating Nursing School from St Luke's Hospital, she began a series of adventures that made up her life. She first moved to Denver in "cool colorful Colorado" as she liked to say to begin her career as an industrial nurse. Next, she moved to Washington State to work as the construction nurse on the McNary Dam. Dottie eventually moved to Los Angeles to be near family. While in Los Angeles working for North American Aviation, she met and married our father. The next adventure was a move to Dhahran Saudi Arabia as our father got a job with Aramco Oil. While in Saudi, she gave up nursing to be a full time mother to us three kids. She made the best of this wilderness experience by cooking gourmet food from scratch and volunteering for our every activity.
In 1979 we moved back to the US and settled in Thousand Oaks where she lived until her death. She returned to work as a nurse to support her family. She started first with Semtech in Newbury Park and eventually retired from GTE at the age of 72. She continued to have a passion for nursing and helping people until the day she retired. She was also a devoted member of Emmanuel Presbyterian Church from 1979 until her passing. Over the years, she served in many capacities including elder, member of the Missions committee, and volunteer with the after school tutoring program, Amigos.
Dottie lived life to the fullest and experienced every joy and beauty it had to offer; often organizing trips and adventures for family and friends alike. Dottie survived two major losses in her life: the first was the passing of her beloved father Irving Mesrop when she was only 5 years old, the other was the tragic, sudden loss of our sister Elizabeth Ann Everett in the fall of 2012.
Dottie was preceded in death by her father and mother, Irving and Emma (Fredrickson) Mesrop, her two sisters Violet and Tiggy Mesrop, and her daughter Elizabeth Everett. She is survived by her daughter Cissy Stanford of Los Angeles, John Tucker of Thousand Oaks, and all of her grandchildren: Zoe Urban, Talia, Theo and Pierce Everett, Hannah, Ariella, and Sam Stanford, and Mary, Sarah, Mark and Grace Tucker.
She will be missed by all as a devoted mother, grandmother, and as a loyal friend.
The Memorial Service will be held on December 27th, 2018 at 1 pm at Emmanuel Presbyterian Church in Thousand Oaks with a brief reception to follow.
In lieu of flowers the family request donations be made to World Vision, P.0. Box 9716, Federal Way, WA 98063.