Donald LeTellier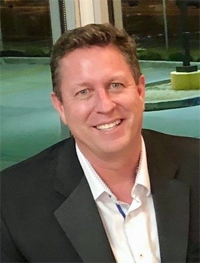 Donald "Brent" LeTellier was born in Knoxville in 1964 and passed suddenly from this world due to cardiac arrest on July 14, 2020. In grade school, he moved with his family to Dhahran, Saudi Arabia where he met most of his life-long "ARAMCO Brat" friends. He completed degrees from UT Knoxville and Duquesne University in Pittsburgh, before returning to Knoxville where he worked in various jobs including social work at Helen Ross McNabb Center and two stints of being a stay-at-home dad/trophy husband. His degrees and experience led him to Lonsdale Elementary School where he spent the last 13 years as a teacher/behavior specialist making a huge impact on numerous children's lives throughout the Lonsdale community. He will be sorely missed at the school where a fund has been established to benefit the students and teachers both in the classroom and beyond (see link below).
Always a joy to be around, Brent had several quirky loves including fainting goats, Napoleon Dynamite, and shawarma. His wife, Maria, enjoyed being by his side as they jumped into any adventures life offered. He had an innate way of understanding people (especially younger people) and genuinely caring for them with his time, money, and anything he had. He is now in a place where he can watch over all of his "kids" who he always welcomed as family.
Preceded in death by his father, Jack LeTellier of Knoxville; his stepfather James Corley of MS; stepsister Caroline Elsteroth of LA. Survived by his wife of 33 years, Maria LeTellier of Knoxville; daughters Nicole Alford and husband Taylor Alford of GA, Elaina LeTellier, Charlie Eskridge, Emily Long, Elise Ferrell and husband Travis Ferrell and their daughter Briella. Also survived by mother Jimmie and husband Ted Griffin of Karns; stepmothers Charlotte LeTellier of Knoxville and Nancy Corley of MS; brothers Steven and wife Sara LeTellier of WA, Michael and wife Sue LeTellier of NJ, Kent and wife Terra Corley of WA, Mark and wife Amy LeTellier of Murfreesboro; step brother David and wife Lisa Cowert; stepsister Becky and husband Brent Morris of OH. In-laws Norma and Gene Spejewski of Oak Ridge, Beverly and Edmund Collins of PA, Andrew and Robin Spejewski of MA, Jeannette and Phil Phillips of TX, many nieces and nephews, and numerous young people that looked to him as a father.
Due to Covid, a celebration of life will be planned at a later date. In lieu of flowers, you can visit the following link to donate to the GoFundMe setup by Brent's family to benefit Lonsdale Elementary School.