David Lee Page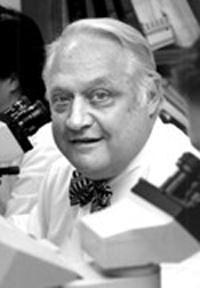 Dr. David Lee Page passed away on October 17, 2019. He was born in New York City to Robert Clinton Page, M.D., and Constance Page. At the age of seven, David's family moved to Dhahran, Saudi Arabia, where his father worked as the Public Health officer for Aramco. From a young age, David showed an affinity for medical and scientific research. While most kids were digging up worms, David was involved in research studies on the role of flies in the spread of trachoma blindness as well as surveys of the incidence of malaria in certain districts. In his high school years, David furthered his work in this field while working summers with a Harvard research team. Between the influence of his father, who at an earlier time had trained in Surgical Pathology at the Mayo Clinic with an emphasis on cancer biology, and his own natural intellectual leanings, David came to understand at a very early age the value of Public Health, and specifically to appreciate the potential role of Pathology as a tool in Public Health, which informed the direction and focus of his future studies and professional path.
In 1958, David attended Yale University, majoring in Russian History while simultaneously completing all the requisite science courses for medical school admission. After graduating Phi Beta Kappa from Yale, David attended the Johns Hopkins School of Medicine where he was exposed to surgical pathology focused on clinical utility, under the mentorship of the then leaders in the field. David got more exposure to pathology during his years as a medical student, which lead him specifically to cancer pathology - an interest that would sustain his professional life for many decades to come.
After graduating with honors from Johns Hopkins, David completed his residency at Vanderbilt University (Internal Medicine), and Massachusetts General Hospital (Anatomic Pathology), where he published notable studies in cardiac pathology. Following his residency, David worked for two years at the National Institutes of Health in a research capacity and then returned to Johns Hopkins as Chief Resident in Pathology for a year.
All these experiences helped David refine his professional desire to become an academic surgical pathologist at a busy academic institution where he could further his developing interest in endocrine/hormonal tumors and breast cancer. Consequently, in 1973, he joined the Anatomic Pathology department at Vanderbilt University Medical Center where he helped to establish the Fellowship in Surgical Pathology and subsequently in breast pathology. Although David published many studies on endocrine pathology, it was at this point that he focused on many of the unanswered questions related to the surgical care of women with breast cancer. These studies continued and advanced for the next 30 years, and, because of his creativity and focus on how pathologic studies can guide the treatment of patients with breast cancer, he became the leader in this field.
As one looks at the long list of publications of his studies, they demonstrate how he thought through how to describe risk factors of breast cancer depending on the various histologic forms on biopsy. In the end, his contributions to developing diagnostic criteria for breast cancer revolutionized risk assessment and surgical therapy. In a 1985 landmark study of detailed pathologic studies of breast biopsies in 17,000 women as well as the patient outcomes, he and his colleagues showed that most women with fibrocystic disease do not have an increased risk of breast cancer, a condition that had previously been treated by preventive mastectomy for suspected malignancy. Additional studies of carcinoma-in-situ and other minimal risk or premalignant tumors underpinned the validity of limited surgical approaches. As a result of his work, essentially millions of women around the world have benefitted from limited surgery rather than radical mastectomy. David was honored around the world for this; he became President of multiple Pathology organizations; he chaired several standard-setting organizations like the Eastern Cooperative Oncology Group the American Joint Commission on Cancer and others. In 1999, he was awarded the Susan Komen Foundation Scientific Award of Distinction for Medical Research. He remained in the middle of risk assessment with the integration of newly available hormone marker and genetic information in familial cancers until his retirement in 2011.
For all his accomplishments and legacy, there was much more to him. David was also a teacher and educator, who trained over 100 Fellows, and he wrote several text books on breast cancer. David was a three-dimensional doctor and was never satisfied with a life confined to a microscope. Rather, he was always a presence and considered the human behind the slide, stressing the importance of reviewing the charts and visiting the patients personally. He himself often came to the operating room to pick up biopsy specimens and to discuss options with the surgeon, and then he followed up with the patient directly. He passed these values on those who trained with him.
David's family was also a source of joy and pride. He was predeceased by his beloved wife of 56 years, Lauren Ann Pokorny Page. David is survived by his daughter, Emily Page Pierre, Director of an Intensive English Program in Boston, and son Robert N. Page M.D., a dermatopathologist in Knoxville, daughter-in-law Diane Page, and grandchildren Elizabeth Page and Rebecca Page. He is also survived by his in-laws, James A. O'Neill M.D. and Susan O'Neill.
A memorial service will be held at Benton Chapel at Vanderbilt on November 19, 2019 at 10:00 a.m. In lieu of flowers, the family would very much appreciate donations being made to the Ingram Cancer Center at Vanderbilt University Medical Center.