Daniel B. Leonard, Jr.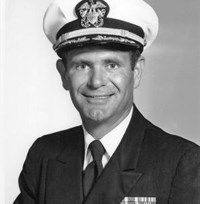 Captain Daniel B. Leonard, Jr., CEC, USN (Ret.), Newtown Square, PA, died on June 27, 2020. He was 84 years old.
Dan was born to Daniel B. Leonard and Nellie May Jones of Lansford, PA. He was a standout in football and track at Lansford High School, where he graduated in 1953. In 2003, Dan was inducted into the Pennsylvania Sports Hall of Fame for his high school accomplishments in sports. Dan graduated from the United States Naval Academy at Annapolis, class of 1958, 24th Company, and was commissioned an Ensign, U.S. Navy.
Following two years of sea duty, he transferred to the Civil Engineer Corps (CEC), where he served twenty-four additional years of active duty military service. His Navy CEC career included five tours with the Naval Mobile Construction Battalions (SEABEES), two of which were in Vietnam. In over twelve years with the SEABEES, he held every position a CEC officer can fill, including having been Commanding Officer of NMCB SEVENTY FOUR (1974-1976). During his naval career, Dan lived and worked in thirteen countries across the globe, as well as in twelve states in the USA. He earned three degrees: Bachelor of Sciences at the USNA, Bachelor of Civil Engineering at Rensselaer Polytechnic Institute, and Master of Civil Engineering at Stanford University. His military decorations include Bronze stars with Combat "V" (two), Meritorious Service Medal (three), Joint Services Commendation Medal, Combat Action Ribbon, Navy "E" Ribbon, and the Vietnamese Service Medal with five campaign stars. He retired from the Navy in in 1984 as a Captain, in the position of Deputy Commander for Military Readiness (SEABEES). In his subsequent civilian career, Dan joined TRW, Inc. as a Construction Executive. He retired early from TRW to accept a position with Saudi Aramco as Project Director. He lived in Saudi Arabia for five years. Dan's work history was completed with Foster Wheeler USA Corporation where he was in Caracas, Venezuela for two years, as a Construction Project Executive.
Dan retired in 1999, and spent his last years traveling with his wife, Giovanna Adimari. They lived in Newtown Square, PA. Dan is survived by his beloved wife, Giovanna Adimari; his children, Daniel III (Corrine) and David (Jennifer), Vaughnlea Rene; and, grandchildren, Joshua, Daniel IV, David Jr., Michael, Talon, Chase, Xavier; and, granddaughter, Skylar.
Memorial Services with military honors and inurnment at the Annapolis National Cemetery will take place at a date TBA.