Cleveland Forsyth Pratt Jr.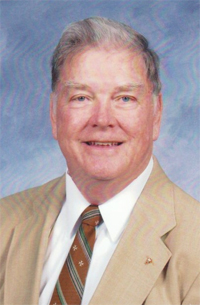 Cleveland Forsyth Pratt Jr., age 81, died December 11, 2018 at the Army Residence Community, San Antonio, TX where he has resided for the last five years. Services will be held at the ARC and innichement in Fort Sam Houston National Cemetery at a later date.
LTC Pratt, U.S. Army (ret) was born on August 17, 1937 in Brooklyn, NY, the son of Cleveland F. Pratt, Sr. and Martha N. Pratt. He graduated high school in Freeport, NY and earned a Bachelor of Science degree from Lafayette College. He received his Army commission and married Dolores Russell, also of Freeport, in 1959. They lived overseas for many years in Germany, Chile, and Saudi Arabia and traveled extensively. He was a career Army officer, an engineer for the Arabian American Oil company, and an engineer with the Department of the Army in Germany. Throughout his career he was in the maintenance management field, retiring in 1998 as Deputy Director of Public works for the Ansbach Military Community, Ansbach, Germany. He received the Bronze Star Medal, the Meritorious Service Medal, the Joint Service Commendation Medal, the Chilean Estrella Militar, the Army Civil Service Achievement Medal, and numerous other commendations/citations.
After his retirement from Civil Service in 1998, the Pratts moved to Wichita Falls, TX. Cleve was an active member of the Rotary Club, the Knights of Columbus, the veteran community, and Democratic political organizations. He was always willing to help in any way possible, whether it be driving a van for the Red Cross, organizing a successful campaign to build a veteran's memorial pavilion at the county cemetery, or cooking hot dogs for the Rotary at blood drives. After 15 years, the Pratts moved to San Antonio, TX and enjoyed living in the- Army Residence Community.
He is survived by his wife, Dolores Pratt and by children and spouses: Laura Pratt and James Stehr of Atlantic Beach, FL; David and Shirley Pratt of Kailua-Kona, HI; Charles Pratt and Sarah Mariner of Anchorage, AK; Rebecca and Timothy Kinard of San Antonio, TX: grandchildren Katherine and Kevin Winters, Hannah Pratt, Samantha Pratt, Justin Kinard and three great grandchildren, Elizabeth, Margaret and Eleanor Winters.