Charles Joseph Boyce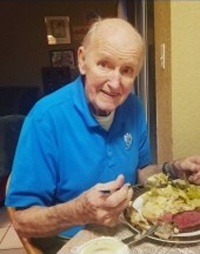 Charles (Charlie) Joseph Boyce, 94, departed October 2, 2021, at Manor Care Health Services, Boca Raton, FL. He was born in Upper Darby, PA. He never missed a day of school in 12 years graduating from Darby High and going on to attend Penn State University.
Charles served in the US Navy during World War II as a yeoman on the aircraft carrier USS Boxer, from Honolulu to Enewetak in the Pacific theater. In the Navy he learned the sport of boxing, he said the training helped him when he got home and joined the Semi-Pro football club Darby Rams.
He fell in love and married Patricia from Collingdale, his wife of 48 years and his inspiration. Charles started his Chemical Engineering career at Gulf Oil sometimes working all 3 shifts, earning more than his supervisor, but that guy was never there at 3 am. With Gulf Oil, he set up refineries in Montreal, Baton Rouge LA, and Corsicana, TX. He took a position in West Virginia with DuPont literally putting out fires when one of the plants exploded. His career took him to Germany, Kuwait at the Pearl Marzuk, and Seattle, WA (with frequent stops in Atlantic City and Las Vegas). He learned every aspect of the industry from budgets to butane. This knowledge landed him a position with ARAMCO drilling for oil in Saudi Arabia, pumping out 10 million barrels a day. He retired in 1991 and moved to Boca Raton, FL, but retirement wasn't for him. Just to stay busy he started working 80 hours a week splitting time between Walmart and Woodfield Country Club. When that wasn't enough he volunteered at Our Lady of Lourdes Catholic Church running the Tuesday Bingo. He was awarded an equivalent degree from Penn State at the recommendation of ARAMCO officially making him the engineer he always was.
Survivors include his sister Gracie Gallen; daughters Patricia Boyce and Alicia Richardson; sons Charles Boyce Jr, Stephen Boyce, and Sean Boyce; grandchildren Stacy Boyce, Christine Bazicki, Jacqueline Bazicki, Kristen Richardson, Nicole Richardson, John Richardson, and Gianna Boyce.
In lieu of traditional expressions of sympathy, PAY IT FORWARD as Charles would have done. When you see someone in need, give them a gift in Charles's memory.
A Memorial conducted by the United States Armed Forces will be held Monday, November 15, 2021, from 12:45 - 1:15 pm at the South Florida National Cemetery, 6501 State Road 7 (441), Lake Worth, FL 33449. Please drive into Lane #3.
Arrangements are being handled by All County Funeral Home at 1107 Lake Avenue, Lake Worth, FL 33460.