Bradley Todd Steinke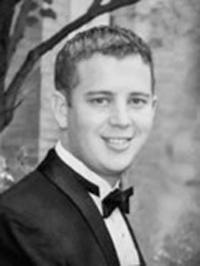 "Don't grieve for me ... for now... I'm free!" (author unknown)
Houston resident and former Hotel Finance Manager, Bradley Todd Steinke died unexpectedly Wednesday, March 4, 2020 while on vacation with his dad.
Brad is survived by his daughter Madeleine Grace Steinke and her mother Lauren Ivers; parents Todd and Nancy Steinke; sister Virginia Atkinson; nephews Matthew Atkinson and Landyn Merchant; aunts Melissa Bowen, Laura Harder, their spouses and children.
Brad was born in Allentown, PA, July 24, 1979; lived in Saudi Arabia 1980-1999 and resided in Texas 1999-present. He attended the Aramco Schools, KSA, 1986-1995; Stoney Brook Academy, NY, 1995-1998; Trinity University, TX, 1998-2003. He received his Masters in Hotel and Business Management from the University of Houston, 1998-2003.
Brad loved exploring! He visited over 20 countries. The favorite times he loved were biking or camping with family and friends. Even recently, he enjoyed camping with Madeleine or off roading in his Jeep. His other passion was joining friends and his dad for ball games. Whether going to them or watching at a local pub, brew house, or at home Brad was an enthusiastic Houston fan.
A private family funeral has been planned. A casual, informal Celebration of Life Gathering will be held April 26, 2020 at the B52 in Conroe between 2-5pm.
The family requests memorial donations be sent to the Star of Hope Mission, Houston, TX, website: sohmission.org.
Brad the road you take now will not be filled with dust but stardust.