Benny James Swindler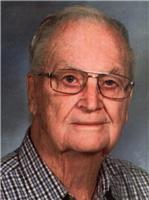 Born June 19, 1926, in New Roads. After graduating from Poydras High School, he joined the Navy and served at the Naval Air Station, Pearl Harbor, and aboard the USS GUAM (CB-2) during World War II. He was a graduate of LSU with a degree in mechanical engineering. He was a long-time employee of Copolymer Rubber and Chemical Company and Arabian American Oil Company (ARAMCO). He was a life member in American Society of Mechanical Engineers and a life member in Louisiana Engineering Society. He was a past president of Baton Rouge Evening Lions Club. After retiring from his engineering career, he was part owner and managed a pecan orchard in Pointe Coupee Parish for 18 years.
A long-time resident in West Feliciana Parish, he was a member of Our Lady of Mount Carmel Catholic Church in St. Francisville. He returned to live in New Roads in 2013, and was a member of St. Mary's of False River
Survived by sister-in-law, Anna Lee Swindler; godchildren, Major Swindler Jr., Ricky Bizette, Randy Swindler, Linda Hsu, Paul Taylor and Mary Defoe; numerous nieces and nephews; and his long-time dear friends, Julie Badeaux Dostal and Jeanne Badeaux Carnline. Preceded in death by parents, Luke Horace and Adele Major Swindler; brothers, Luke Horace Swindler Jr. and Major Swindler Sr.; and sisters, Virgie S. Bizette and Bernadine S. Miller.
Funeral services will be held Friday, August 17, 2018, at St. Mary's of False River, 348 W. Main Street, New Roads, with visitation from 9:30 a.m. until Mass of Christian Burial at 11:00 a.m., celebrated by the Reverend Brent Maher. Entombment to follow in False River Memorial Park.