Alexander S. Allen VIII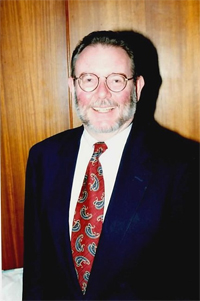 Alexander (Al) S. Allen VIII (77) returned home to his Heavenly Father, Wednesday evening, August 1st, 2018 with his friends and family nearby.
Al was born in upstate New York on January 7, 1941 to parents Alexander and Doris Allen. He spent his childhood and school years in the Midwest and earned a degree in Chemical Engineering. After school, Al moved to California to work in the petrochemical industry where he met and married his wife, Judy.
The couple moved from the sun-soaked beaches in California to Puerto Rico, where both Al's career in the oil and gas industry and family grew. He pursued a new opportunity with Aramco Oil Company in Saudi Arabia. Later, he moved his family back to Houston, Texas.
After several years in the petrochemical industry, the failing local economy of the mid-1980s inspired Al to strike out on his own and start a small design and steel fabrication business. The family business continued to grow rapidly into the '90s.
In 2015, Al's wife, Judy, passed and he closed down the business. He later moved to North Texas to be near his grandchildren, where he lived until his death.
Al was an active member of Second Baptist church in Houston. He served as deacon, marriage counselor, and teacher in his church and enjoyed long-standing membership in Bible Study Fellowship and Rotary. Both he and wife Judy volunteered much of their time to ministries and charities, including Star of Hope mission and the Women's Home in Houston. Al actively supported his children in sports, dance, music and studies. He also loved the outdoors, camping, hiking, gardening, sailing, music, art, painting, model trains, wood working, coin and stamp collecting, cooking, and travel.
He is remembered best by his friends and family for his welcoming smile, warm heart and hands, passionate prayer, kindness, compassion, generosity, abundant love, eagerness, determination, wit, and ingenuity. Al is survived and dearly missed by his three children, Mary, Jennifer, Alexander IX (Alex) and wife Danielle, his sister Constance (Connie), her husband Gaspar (Nick) and daughter Renee Ventimiglia, and his four grandchildren, Alexander X (Alec), Alyssabeth (Aly), Aaron and Aric. He will be forever remembered by his beloved extended family and dear friends.
A private funeral service for immediate family will be held Friday, August 10th in Houston, Texas. A Celebration of Life Memorial Service will be held on Saturday, August 11th at 10 AM at Second Baptist Church, located at 6400 Woodway, Houston, TX 77057.
A secondary Memorial Service for Al's North Texas friends and family will be held on Saturday, August 18th at 10 AM at Southmont Baptist Church, 2801 Pennsylvania Dr., Denton, TX 76205.