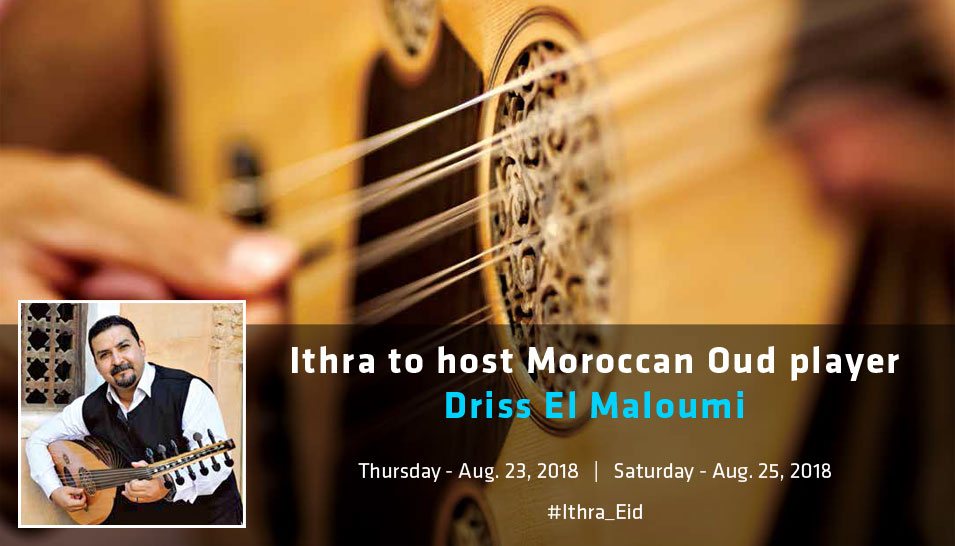 The oud is considered the king of Arabic instruments. Over 'Id al-Adha, musician Driss El Maloumi will bring his oud stylings to the King Abdulaziz Center for World Culture for a pair of shows certain to entertain and entice local crowds.
Dhahran — The King Abdulaziz Center for World Culture (Ithra) will host an evening with the Moroccan composer and player Driss El Maloumi on Thursday, Aug. 23, and Saturday, Aug. 25 as part of #Ithra_Eid. El Maloumi, also known as "Oud Magician," will be coming to Saudi Arabia for the first time and performing on Ithra's stage.
El Maloumi has played with some of the world's most renowned musicians, such as Jordi Savall, Gerard Kurkdjian, Marcel Khalife, and Naseer Shamma. Additionally, he has won many awards, including the 2011 Ziryab Music Award — a prize given under the auspices of Morocco's National Council for Music and the United Nations Educational, Scientific and Cultural Organization. He has also been awarded a number of titles, most recently the French Arts and Letters Medal of 2016 by the French Ministry of Culture.
Among the various types and genres of music, each culture has a certain instrument that is considered its primary instrument. In the Arabic culture, that position is reserved for the oud. And while El Maloumi loves the tradition, its structure, strength, and dignity, his music expands beyond the traditional as it embraces percussion, other instruments, and even vocals.
His melody is a mixture of Arabic, Berber, Western, and South Desert cultures. He also has a unique manner of producing high-quality music.
The artist proves that it is possible to broaden the scope of expression of an instrument without falling into a meaningless virtuoso performance. It is this ability that earned him the title of "poet of the oud" and helped him win the Ziryab skills.
This performance coincides with the 'Id al-Adha theme "The Journey," which will bring to the audience's ears a sound simultaneously traditional and also born from another culture.
Tickets can be purchased at www.ithra.com.