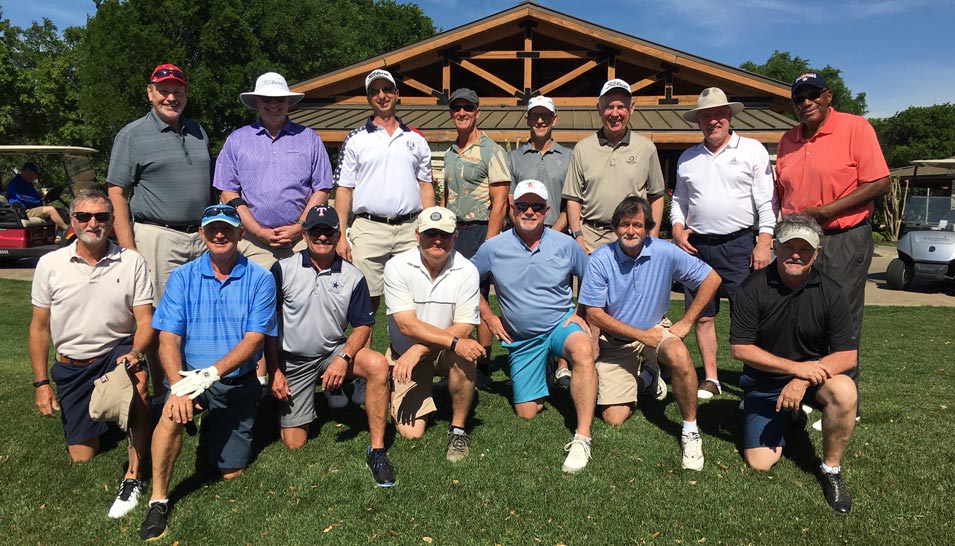 Austin Event - April 2019. Aramco Retirees in attendance - back row left to right: Jon Grosch, Ray Krygsman, Ike Bellaci, Brad Coy, Guest, Mike Haas, Royce Crawford and Carlon Parks. Front row left to right. Gregg Skinner, Robert Ross, Tim McGhee, Chuck Baldwin, Mel Knotts, Mike Ferguson and Dan Thost.
October 7-11, 2019
Sarasota, Florida
The Resort at Longboat Key Club
The Aramco Retiree Golf Group was founded by a group of Aramco retirees that play golf and started this year organizing golf outings twice a year in North America. We want to welcome former Aramco retirees and current employees to join the fun. We have a database of close to 100 Aramco Retiree golfers from around the world and the inaugural event was held April 2019 in Austin, Texas including social events for both players and spouses that included welcoming dinner, BBQ at Aramco Retiree Austin resident's home, dinner cruise on the lake with many non-golfing retirees and family joining, watching the Master's and playing 54 holes of golf over 3 days along with daily excursions in and around Austin for non-golfers.
The next trip is planned October 7-11, 2019 in Sarasota, Florida staying at The Resort at Longboat Key Club and playing golf for 3 days October 8, 9 and 10. This event still has openings, and more are planned in 2020.
So, if you are interested, please contact:
Name : Michael Haas
Email : [email protected]
It is a great opportunity to catch up with friends and play a few rounds of golf around North America and hopefully other places around the world.