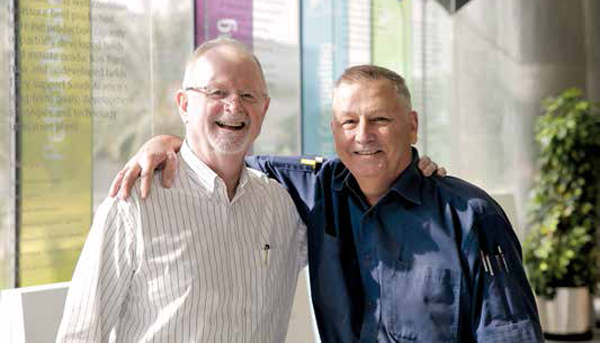 David Kersey and John Pasnak capped impressive careers with Saudi Aramco by transferring their knowledge, skill, and our Upstream "grit" to young professionals at the Upstream Development Center.
With a combined 52 years of service to Saudi Aramco, John Pasnak and David Kersey recently ended successful careers in the company with a legacy of dedication, commitment, and professionalism.
Both professionals polished their company legacies in their respective projects and capped their careers at the Upstream Professional Development Center (UPDC) where they coached, mentored, and instructed young professionals in professions in upstream oil and gas business and operations.
A Catalyst in Well Technologies
Pasnak, with 36 years of service, obtained a B.S. in mechanical engineering at the University of Calgary in Canada and started his Saudi Aramco career in 1981 with the Workover Engineering Division in Abqaiq.
In 1988, he transferred to Offshore Drilling Engineering, where he became a catalyst in the design and execution of Saudi Aramco's first applications of horizontal and multilateral well technologies. He designed the first two horizontal wells in the offshore Berri Field and the first multilateral dual production string producer well.
He went on to lead the Drilling Design Team during the development of the first increment at Shaybah, the first field in the world developed using only horizontal wells.
In 2002, he became the Drilling Technology team lead in the new E&PE Technology Department, now EXPEC ARC. Pasnak joined UPDC in 2010 to lead the Drilling Engineering curriculum development and succeeded in developing more than 10 major curricula for the early and mid-to-senior professionals in Upstream.
During his retirement event, Pasnak noted that on his first assignment with the company, he was reviewing a well file and saw that the well was first drilled in 1951 — the year that he was born. He also noticed that the drilling engineer who had signed the well completion report was his current supervisor, 31 years later.
Pasnak said a similar thing happened to him as a former trainee had recently worked on a well that had Pasnak's signature on a workover report from 1986.
"Time seemed to past so quickly, and if I had to do it over, I would choose the same career path for the same company," he said. "There is no better."
Pasnak, who plans to do some consulting work, considers himself a semi-retired global traveler who will split his time between Edmonton in Canada and Bahrain, where his hobbies include designing, building, modifying, and even racing super cars. His home email is [email protected].
Respected Industry Expert
Kersey, with over 16 years of service, joined the company in 2000. A respected industry expert in petrophysics, he was a senior Petroleum Engineering consultant in the Reservoir Description and Simulation Department (RDSD).
Commitment to the development and engagement of young professionals is reflected in the work of Kersey. He was a constant supporter of the training, development, and advancement of young petrotechnical professionals in the Kingdom and at Saudi Aramco. Kersey led several project teams and field studies in RDSD and the Petrophysical and Special Studies Unit in the Reservoir Description Division.
He completed his undergraduate work at the University of Southern California and his graduate degree at Harvard. He published more than 60 articles on petrophysics, reservoir description, and formation damage control while being an active member of the Society of Petroleum Engineers (SPE) and American Association of Petroleum Geologists.
For more than 10 years, Kersey was the technical chairman of the Saudi Aramco Technologist Development Program, from which over 60 high performing Saudi Aramco petroleum engineers have graduated. Since 2010, he led the technical advisory group at the UPDC, responsible for designing, developing, and delivering curricula for career-long professional development in each Upstream discipline.
He is an SPE Distinguished Member, chaired the local SPE section and served as a technical editor where he reviewed, evaluated, and edited technical papers in the areas of petrophysics, reservoir engineering, and unconventional resources.
At his retirement luncheon, Kersey expressed gratitude toward his friends and colleagues saying, "I leave far richer than I arrived in the only currency that matters; friendship."
Kersey's wife, Renie, has been busy the past few years supervising the construction of their retirement home in Hawaii, where they are now residing.
They can be reached at [email protected].