From kindergarten until fourth grade, I went to a French Catholic school in Toronto, Canada. I started my first year at an English school when my family moved to Saudi Arabia, and I began school at Saudi Aramco. For the first time, school became hard for me. I had difficulties connecting with the teacher and I thought that is was so hard because it was my first time going to an English school. I kept pushing myself because I thought I just needed to work harder.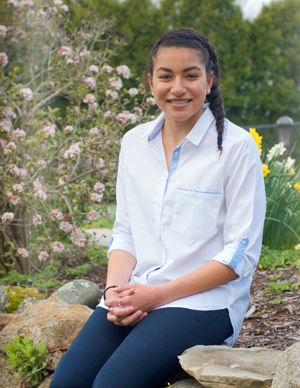 By October 2013, my freshman year of high school, I was thinking about boarding school since the Aramco and Saudi systems weren't well-suited to my learning style. I had heard about Landmark, but since I didn't know I had a learning disability, I didn't take it into consideration. On Christmas day that year, my family and I went to visit our friends the Simoudis family for dessert. I had asked their son, Hector '09, where he had gone to boarding school. He told me that he left Saudi Aramco because he struggled in school. He said that he worked really hard, but didn't get the grades he deserved. It was as if he was describing my life story, as if he knew exactly what I was going through. And then he told me about Landmark, and how it changed his life, and he got me hooked.
In February, I came to visit Landmark during a snowstorm. I was given a great tour by three lovely girls, but still had to make my decision whether or not I wanted to come. I knew that if I didn't choose Landmark, school would be super hard, I wouldn't do well, and I wouldn't have time for other things, such as sports. So I decided to go. I started at Landmark in the fall of 2014, my sophomore year.
My decision to come to Landmark was one of the best decisions I have ever made. I always felt there was a puzzle piece missing in my life. Not knowing I was dyslexic until Landmark was tough because I always felt like there was something missing. However, I am happy I didn't know because it made me develop a good work ethic, and now the puzzle is complete.
— Reprinted with permission of Landmark School