by Michael Ives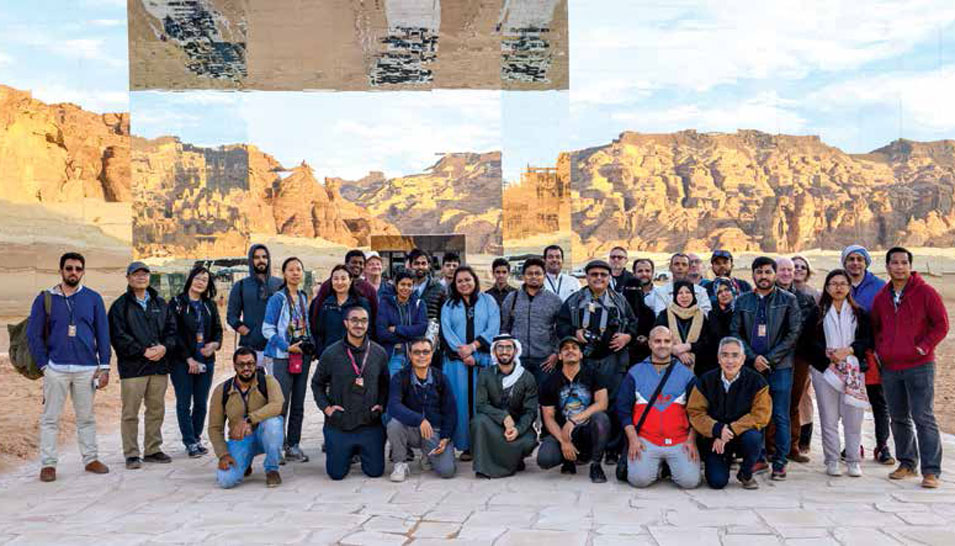 Some of the 145 employees who traveled to Al-'Ula on a Saudi Aramco-sponsored trip pose for a photo at the mirrored Maraya structure. (Photos: Ding and Hasan AlMubarak/MPD)
Al-'Ula — Gathered outside Gate 34 in Dhahran on Friday, 145 fortunate Saudi Aramco employees and dependents were about to go on a memorable day trip.
Organized by the Corporate Affairs' events team, the group was being taken to see the many archaeological treasures of Al-'Ula in the northwest area of Saudi Arabia.
Visitors gather in a narrow crevice to take in the natural wonder of the area.
Saudi Aramco employees and their dependents take their seats on the flight to Al-'Ula from Dammam.
A tour guide provides some information on the impressive rock structures.
Upon arrival, the first stop was the majestic Madain Salih — a UNESCO World Heritage site. It is known for being the second largest Nabatean capital, after Petra. Rising out of the desert, its iconic tombs are a testament to the people who roamed this land 2,000 years ago.
"It is a real privilege to be able to see such ancient history up close," said Arif H. Zawwadi, a foreman with Shedgum NGL. "The tombs are amazing and give you a real sense of the lives of this ancient civilization."
Ali A. Quraisha, a planning analyst with Chemicals Growth and Technology Support, said "It is amazing what these ancient people achieved without modern building equipment. It is incredible what scale they achieved so many centuries ago."
Madain Salih looms large as Saudi Aramco employees and their dependents arrive for a day of historic sightseeing in the Kingdom's northwest. (Photos: Hasan AlMubarak and Ding/MPD)
A short drive from Madain Salih, the Ikmah Mountain holds ancient rock inscriptions dating as far back as 2,000 years, revealing the names of tribes and laws of the Liyanite inhabitants.
From the ancient came the modern. Shimmering in the distance ahead was an enormous mirrored cube in the desert. This was Maraya — a concert hall that seamlessly combines the ancient and modern — reflecting the desert landscape in its mirrored walls.
Dramatic lighting at the historic site provides the perfect backdrop for the playing of traditional music during the evening stayover in Al-'Ula.
After Maraya, the group enjoyed two final stops, an open air market, as part of the "Winter at Tantora," festival, and a visit to the spectacularly lit Elephant Rock. From there, the group headed home, with fond memories of a truly spectacular day.
— The Arabian Sun: January 8, 2020 | Vol. LXXV, No. 2