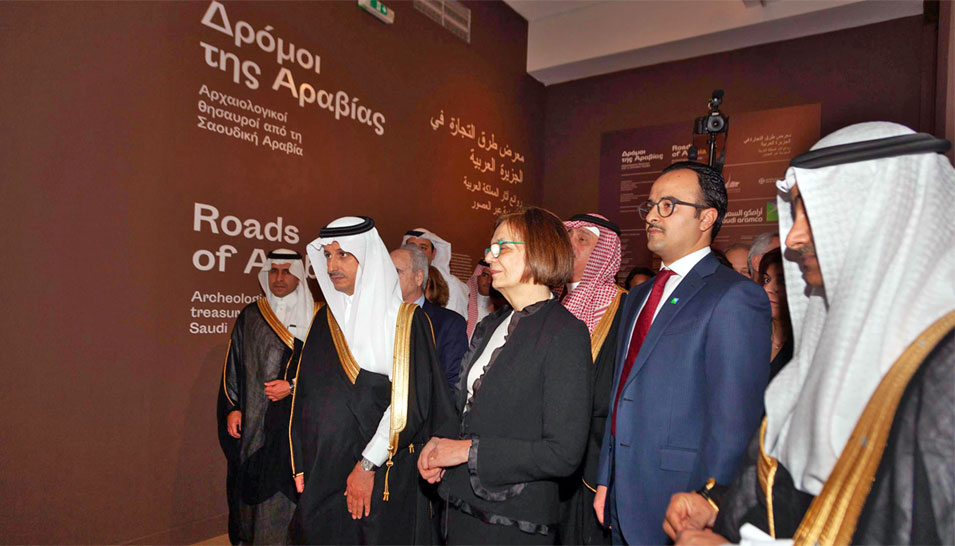 Saudi Aramco is proud to be a strategic partner of the 'Roads of Arabia', an exhibition covering the historical and cultural development of the Arabian Peninsula – opened in Athens, Greece. 'Roads of Arabia: Archeological Treasures of Saudi Arabia', is a joint initiative of Saudi Aramco's King Abdulaziz Center for World Culture (iThra) and the Saudi Commission for Tourism and National Heritage (SCTH).
Opened March 20th, at Athen's Benaki Museum, the exhibition was inaugurated by Minister of Culture and Sports of Greece, Her Excellency, Myrsini Zorba and H.E. Ahmed Al-Khatib, President of the Saudi Commission for Tourism and National Heritage.
Fahad K. Al-Dhubaib, Saudi Aramco General Manager for Public Affairs commented: "To date, Roads of Arabia, has been on its own journey. Travelling to some 10 countries and over 16 cities enabling more than five million people to view these rare artifacts. Exhibits like Roads of Arabia is only one example of Saudi Aramco's efforts to cultivate the creative industry. Another is Ithra, which has inspired more than half a million visitors since it opened to public nine month ago. Roads of Arabia, unveils the rich history of trade and deep culture of the Arabian Peninsula. "
Featuring important archaeological relics illustrating the depth of the Arab civilization and its history of more than one million years, the exhibition features over 466 archaeological pieces selected from the National Museum in Riyadh, the King Saud University Museum, among others. The relics cover the prehistoric and pre-Islamic times, the early, middle, and late Arabian kingdoms and civilizations, and the Islamic period, until the establishment of the modern day Kingdom of Saudi Arabia
Considered one of the most important Saudi exhibitions, Roads of Arabia has already visited several European countries, as well as the United States, since launching in 2010. Launched for the first time in Europe at the Louvre Museum, Paris (February, 2010), it went on to La Caixa Foundation in Barcelona (Spain), then the Hermitage Museum in St. Petersburg (Russia), and the Pergamon Museum, Berlin (Germany).
Back in 2012, the exhibition visited US institutions such as the Sakler Museum, Washington DC, followed by the Carnegie Museum of Pittsburgh, then the Fine Art Museum in Houston, Texas, followed by the Nelson Atkins Museum of Art in Kansas City, Missouri, and finally the Asian Arts Museum in San Francisco.
In Asia, the exhibition was first hosted by the National Museum in Beijing in 2016, followed by the National Museum in Seoul, South Korea, before heading to the National Museum Tokyo followed by the Louvre Museum Abu Dhabi. Across its previous international tours, Roads of Arabia has attracted over 5 million visitors around the world.
The Athens exhibition officially opens to the public on March 21st, running until May 25th.