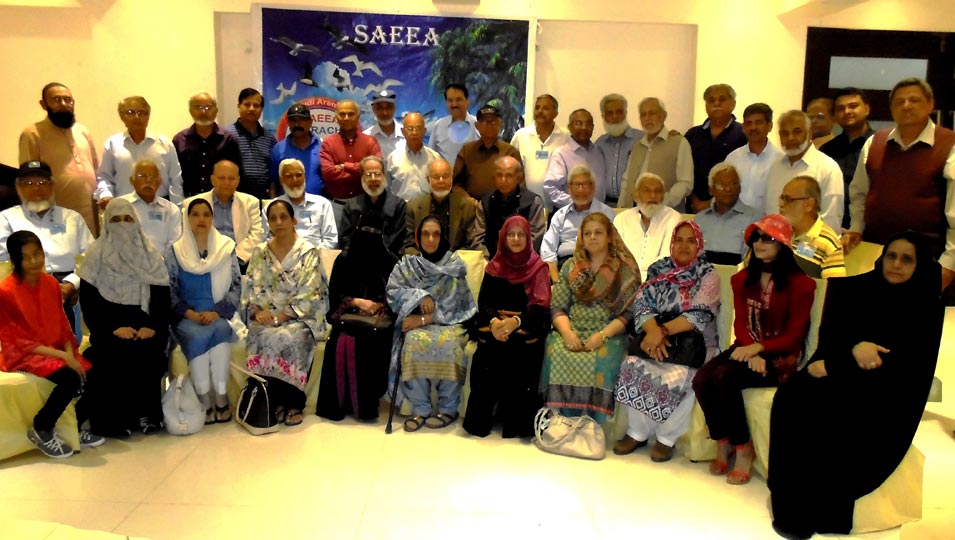 A group photo of SAEEA Members and families at Iqbal Hall
Saudi Aramco Ex-Employees Association (SAEEA) celebrated its 14th Reunion, and Picnic on February 21, 2016 at Dream World Resort, Super Highway, Karachi. The highlights of the function are as follows:
A total of 164 persons attended the function (80 male, 57 ladies, 19 children and 8 infants)
All attendees met with their old buddies and enjoyed the event.
One additional person Dr. Khawaja Yousufullah Siddiqui joined the Association and became SAEEA Member. Dr Siddiqui is a UK National and is on a visit to Pakistan His Saudi Aramco Badge No. 71721. Also, there were two SAEEA Members, Engr. Mohammad Ahmed and Muzafar Ali Khan, who left Pakistan years ago and are settled in USA and Canada respectively. They are currently on visit to Pakistan and attended SAEEA reunion.
Function Secretary, Syed Shahid Ali started the event with the recitation from the Holy Qur'an by Engr. Iqbal Ahmed Khan.
This was not a formal reunion but was very special one as we all celebrated the second Picnic in a Farm House. There was a high pressure from most of the members to change the usual routine and to do it in a different style. To keep the valuable opinion of all the members SAEEA, with the help of other Members, especially Arif Qamar, Qamar A. Khan, Syed Shabbar Hassan Abidi, Jamil Shaikh, Ovais Akram Ali, Abu Zafeer, Qazi Naseer and other Friends remarkably organized this event. The attendance figure shows the success of the reunion. Children enjoyed the most as well as the Senior SAEEA Members. The change proved beyond SAEEA expectations.
In his speech, Kamal Farooqui, President, emphasize the need of elections. After two elections, the current team has been running SAEEA for the last five and a half years. No one approaches SAEEA for contesting elections. Kamal requested again for the nominations.  However, if there are no nominations then SAEEA will have no other choice but to nominate people from the existing members and during the next reunion, will request general body for electing new office bearers from the nominated group.
After saying their prayers, the attendees enjoyed very delicious food. SAEEA also organized a mini musical program during the picnic, which is an extra flavor for the event. Syed Mahmood Ali, Engr. SW Fakhri and few other Friends sung songs. All participants enjoyed the light music.
The resort consists of more than hundred games; however, the participants enjoyed most with swimming and paddle boating, artificial sea area, Lagoon Fun Area and lot more. The swimming pool was extra ordinary in its size and design.
Kamal Farooqui, President of SAEEA thanked all participants and requested them to be more active and close with SAEEA. For the same purposes, SAEEA established a Group in Whats App system. Most of the Members have been enjoying, chatting and exchanging their views. However, the President requested Whats App users not to post political, religious or personal material. SAEEA bye laws do not allow these kinds of postings among SAEEA Members. This is very important. Friends may use their personal Whats app boxes for the same purpose, if they like.
In recognition of Arif Qamar, Ovais Akram Ali and their Families' outstanding services and cooperation; SAEEA presented gifts to Arif and Ovais. Also, SAEEA presented a gift to Atauddin Qureshi, whose birthday falls in the current month.
In order to provide more time to enjoy inside the Resort, SAEEA shorten its other activities.  The participants liked and enjoyed the most in all the places within the Resort.
There were six deaths in between the 13th and 14th reunions. Several Members of SAEEA have been sick for ages. KAF prayed for all of them.
Last but not the least Engr. Iqbal A. Khan requested all the honorable Members to visit SAEEA Official Website and do write their comments so that we can improve it further. The URL of the website is; http://www.saeea.net.
The program concluded at 4:30 PM after getting several group and individual photographs.